Mountain States Tumor Institute was founded in 1969, five years after I was born.
"Tumor" was a somewhat strange and heavy word when, six years after that, it entered my 11-year-old vocabulary. It was 1975 and my kid sister, Chris, four years younger than me, started having severe headaches.
She was an athletic, blue-eyed girl with long brown hair that she wore in pigtails. Being sick wasn't in her nature, so it was puzzling to figure out what was going on.
The cause, it turned out, was a growing tumor in her brain.
Cancer care wasn't available locally — during the course of Chris' treatment we lived in northern Utah, central Kansas and south-central Montana. Over the years, our family life filled with long, out-of-town hospital visits. At a moment's notice, my parents would rush off to the hospital, and sometimes be gone for weeks at a time.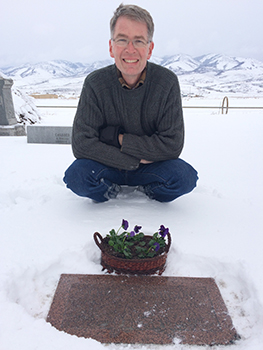 Surgeries and cobalt therapy were tried to kill the tumor, which continued to expand. Chris lost her beautiful hair, much of her eyesight and hearing and the ability to walk.
In 1982, a few months before my high school graduation, Chris passed away.
The following year, on New Year's Eve, my father was diagnosed with another form of cancer, a late-stage melanoma. He died a year later, at the age of 44.
It's not surprising, then, that cancer care has become my life work. I started at Memorial Sloan-Kettering Cancer Center in New York City, then moved to in Minneapolis and the Park Nicollet Cancer Center, which ultimately grew to become the Frauenshuh Cancer Center.
Nine years ago, I joined the MSTI team. The decision to come here was a very deliberate one.
I have deep Idaho roots that go back many generations to the early pioneers. The Idaho way of life is one I love, and it's important to me that the people around me dealing with cancer diagnoses get their care close to home. I don't want people separated from loved ones, as my family was, as they seek the best possible care.
Our team works hard to ensure that the latest treatment technology is available as locally as possible. Last year, for example, we invested heavily to expand our blood and marrow transplant program for the sole purpose of keeping care local.
On December 3, 2019, Mountain States Tumor Institute celebrated 50 years of providing cancer care for the people of Idaho, northern Nevada and eastern Oregon. We also adjusted our name to St. Luke's Cancer Institute to make it more clear that we care for all cancers, not just tumors.
Our mission has remained the same, however. The same caring people continue to care. And our team continues to be motivated by the same meaningful reasons that drew us to cancer care in the first place. Many of us who work in oncology don't view it as a job. We are powerfully driven by reasons. I'm motivated largely by how my early life was impacted by cancer. That motivation hasn't stopped; it's unusual for me not to have a friend carrying the burden of cancer.
The photo of Chris on my desk continues to greet me each morning, and remind me of why I value working at St. Luke's Cancer Institute.