MSTI, at 50, is history! St. Luke's Cancer Institute will carry on the legacy of Mountain States Tumor Institute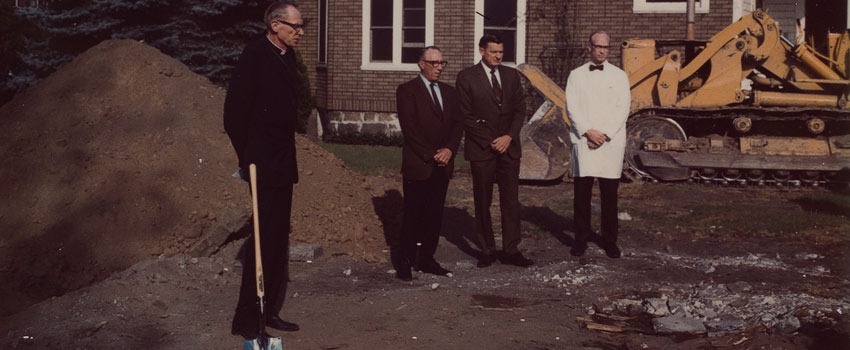 From left: Bishop Norman Foote, with shovel, Dr. Alfred Popma, Dr. Maurice Burkholder and Dr. C. Ron Koons at the MSTI groundbreaking ceremony on May 20, 1970.
By Randall Post, News and Community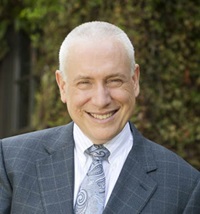 It is hard for me to imagine that St. Luke's Mountain States Tumor Institute is turning 50! Wow!
I am so proud of the amazing care and caring that the MSTI physicians, nurses, therapists, social workers, geneticists, pharmacists and everyone else in this great team-based program provide, starting with the registration desk employees, who get visits started with a welcoming smile and greeting patients by name.
I have not just witnessed MSTI's amazing programs and services as the CEO of the health system. I have witnessed them as the husband of a cancer survivor. We knew that she would get state-of-the-art care from incredibly compassionate people right here where we live. I have had patients at nationally ranked, research-based cancer centers and friends and family treated at MSTI. There is no comparison.
It is hard to comprehend just how far cancer treatment has come in these past five decades. It's impressive to see how MSTI has evolved and now, we have the opportunity to honor our history as our oncology care becomes St. Luke's Cancer Institute.
I am so grateful to Dr. Dan Zuckerman for his leadership and for all those leaders who came before him. This is an incredible service that we provide to Idahoans so that they, too, do not have to leave home for world-class care. Happy anniversary, MSTI!
- David C. Pate, M.D., J.D.
---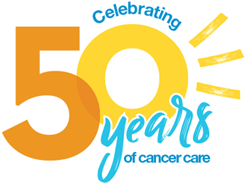 St. Luke's Mountain States Tumor Institute (MSTI), for half a century the cancer care destination of the region's residents, is now St. Luke's Cancer Institute.
The new name comes as St. Luke's Health System kicks off a yearlong celebration of the oncology program's 50th anniversary.
"MSTI has been the premier cancer institute for Idaho for the past 50 years," said Dr. Dan Zuckerman, St. Luke's Cancer Institute medical director. "We've cared for more patients and families across Idaho than anybody and we've grown to meet the needs of our community."
Few understand the MSTI legacy better than Dr. Zuckerman, who was 3 years old when he started making "rounds" with his father, Dr. Norm Zuckerman.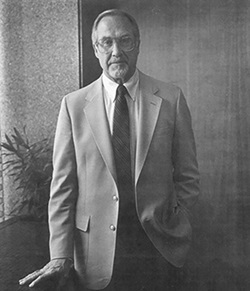 "Dr. Dan," as his patients know him, received his medical degree from the University of Chicago Pritzker School of Medicine and returned to his hometown to join MSTI as a medical oncologist. He has been medical director since 2013, and credits founders and early physician leaders for establishing a program that made cancer care possible for many rural residents.
"Thanks to the dedication of my predecessors – Dr. Tom Beck, Dr. Charlie Smith and Dr. Norm Zuckerman, among others – MSTI has established five full-time cancer centers across southwest and central Idaho."
According to Barbara Herrick's "St. Luke's Regional Medical Center: A Century of Community 1902-2002," MSTI got its start in the late 1960s, about the time that Dr. Alfred Popma, the area's only radiotherapist, announced his plans to retire.
Administrators, the board of directors and physicians mapped a strategy, and E.E. "Gil" Gilbertson, St. Luke's administrator, applied for federal grants, which along with funds from the Idaho Legislature became the program's seed money.


Construction on the original MSTI building in September 1970.


On Dec. 3, 1969, MSTI opened within St. Luke's Boise hospital, moving two years later into its own building.
Changing the name was a tough but necessary decision. Those familiar with MSTI associate the program with quality, compassion and cutting-edge care, but people new to the cancer journey often struggled to find their way to the team and/or did not link it to St. Luke's, the preferred provider in the region.
"Our regional reputation is well established, but as we grow and do more research, our reputation is growing nationally and people need to know we're part of St. Luke's and we're the St. Luke's Cancer Institute in Idaho," Dr. Zuckerman said.
The community can expect the same stellar services and more from St. Luke's Cancer Institute over the next 50 years.
"The 'same' is that we will continue to always put patients first, to take the most up-to-date scientific advances in oncology treatments and always deliver it with care, to treat you like we would our own mother, to never make you feel like a number, to support our physicians and nurses and all our caregivers in the difficult and noble job we do," Dr. Zuckerman said.
"The 'more' is greater access to more innovative clinical trials; the 'more' is CAR T cell therapy; the 'more' is an expanded palliative care program that improves the support of patients with incurable cancer and broadens that support to their families and care-givers; the 'more' is harnessing artificial intelligence to assist our radiologists, pathologists and oncologists in developing the best care plans for our patients; the 'more' is building our survivorship program to help our patients not just survive their cancer, but to live as fully and functionally and without fear as possible.
The 'more' is wide open."
#MSTI50 profiles
During St. Luke's yearlong celebration of 50 years of cancer care, be sure to check out our social media channels for special profiles of the physicians, staff, patients and donors who have had a substantial impact. Find them by searching #MSTI50 and #StLukesCancerInstitute on Facebook, Instagram, LinkedIn and Twitter.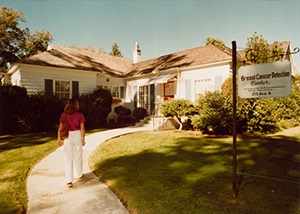 The Breast Cancer Detection Center
MSTI Timeline
1969
MSTI opened in the St. Luke's Boise hospital, thanks to a federal grant and state funding.
1970
On May 20, work started on the new MSTI facility. The one-story underground structure included three-foot-thick concrete walls for maximum shielding of radiotherapy equipment.
1971
On May 16, MSTI officially opened, moving from the hospital into its own building on the St. Luke's campus. MSTI's first physicist joined the staff.
1973
The first Breast Cancer Detection Center opened in Boise.
1979
Dr. Bonnie Vestal, MSTI's first pediatric oncologist, began practice.
1980s
MSTI led a landmark study to evaluate the effectiveness of new anti-nausea drugs with chemotherapy.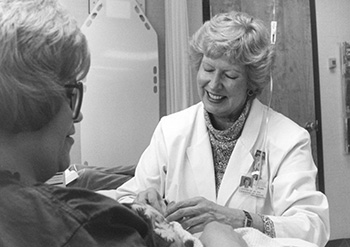 1991
The Nampa cancer center opened.
1992
Idaho's first bone marrow transplantation program began.
2000
The Meridian cancer center opened.
2002
The Twin Falls cancer center opened, the Nampa center was expanded and remodeled, radiation therapy began in Meridian and the Fruitland cancer center opened.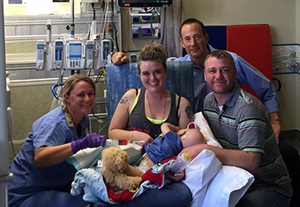 From left to right: Pediatric nurse Cheryl Unruh, Patti Fontaine, Tate Fontaine, Dr. Nathan Meeker and Jet Fontaine.
2007
The community outreach program began.
2010
MSTI was selected as a National Cancer Institute Community Cancer Center.
2011
Dr. Nicole Thurston, St. Luke's first oncology psychiatrist, joined MSTI, and supportive oncology services were formalized.
2016
Tate Fontaine, age nine months, became the first child to undergo an autologous stem cell transplant in Idaho.
2019
St. Luke's MSTI becomes St. Luke's Cancer Institute.