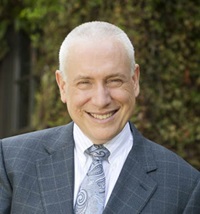 St. Luke's palliative care providers address the physical, emotional and spiritual needs of patients in need of advanced methods of symptom management and in some cases, hospice care, and are branching out to ensure these important services are part of our continuum across patients' experience with us.
Here to tell you more about this program and those who provide palliative care is Randall Post, St. Luke's Health System communications coordinator.
- David C. Pate, M.D., J.D.
---
St. Luke's Health System is focused on ensuring a seamless experience for patients and their families. That effort extends beyond the hospital walls, and increasingly, beyond discrete episodes of care.
So it's logical that St. Luke's physicians and program planners are building tighter connections between palliative care and the range of health system services by expanding beyond the palliative care team.
To that end, Dr. Zachary Erekson, a medical director for palliative care in the Treasure Valley, and Dr. Mike Ross, an emergency physician, are taking part in a program through the University of Washington Cambia Palliative Care Center of Excellence. Certification in the center's program, with its concentration on communication skills, interprofessional team training and palliative care practice program sustainability, will equip them to train staff members across the health system in palliative care competencies.
"There aren't enough palliative care specialists and there never will be to meet the need," Dr. Erekson said. "We really need people in all their different care settings to be able to use some of those palliative care skills to call in a specialist for those particular occasions where they need some extra help or backup."
Research suggests that patients who receive early palliative care have better outcomes and lower readmission rates, receive less ICU and emergency room care, experience less depression and live longer than those who don't.
And there are other critical reasons St. Luke's wants to support patients, families and staff members through palliative care; many people are confused and anxious when it comes to difficult but important conversations with seriously ill patients about sensitive topics.
Training non-palliative care physicians, clinicians, nurses, social workers and support staff throughout the health system to recognize when patients would benefit from palliative care will help meet patients where they are with their overall care goals. That's key in developing and putting care plans into action, because a patient's goals may be very different than what family members or providers might otherwise assume.
Involving patients and their families in a team-based approach in the emergency department, ICU, inpatient and outpatient clinics and spiritual care can ensure that a patient's symptom management, treatment and cultural goals are met. And team-based support can be invaluable when it comes to the complex communication, complicated family dynamics, conflict resolution and physical and emotional distress that can accompany health conditions that call for palliative care.
Primary palliative care planning is only one part of the approach for St. Luke's, according to Dr. Vic Kadyan, medical director of specialty care. Because studies have shown improved patient-family satisfaction with care, earlier care planning and lower end-of-life spending with specialty palliative care, St. Luke's is also working to improve access to and use of specialty palliative care services.
St. Luke's is also moving to embed specialty-trained support/providers in oncology and other settings where serious illness care is routine. These clinicians would provide skilled needs assessments, direct support to patients and educate care provider teams. To help drive these outcomes, St. Luke's Vice President of Population Health Mike Fenello was recently named to guide and lead systemwide home health and hospice, spiritual care and therapy services.
"These elements are critically important to our strategy," Fenello said. "They have to be brought to the forefront of our thinking and planning on how we better connect with patients to help support and drive outcomes.
"We will need to deploy these elements in different settings in different ways than we have to date."
Development of palliative care approaches and programs has been an ongoing process at St. Luke's, according to clinical nurse specialist Rick Bassett.
"We've known for well over a decade that there are significant palliative care needs," Bassett said. "St. Luke's has made some efforts not only to engage new providers in this conversation, but also our nurses.
"I'm doing a daily palliative care screen on our patients to determine if they meet certain clinical criteria that would indicate that they might benefit from a palliative care consult."
Palliative care in action
Dr. Kadyan gave the example of his father, who had pancreatitis and who was also on Gleevec to help manage an abdominal tumor. The medication was making him anemic and hypotensive, to the point where he was frequently passing out.
After consulting with his palliative care doctor and weighing considerations regarding the quality of his life, he stopped taking the drug.
"It's been a year now that he's been without the drug and he's happier, healthier and for some miraculous reason, the tumor is shrinking," Dr. Kadyan said. "Instead of, 'You've got to take this drug because it'll cure you' and concentrating on what is important to his quality of life, that's really the essence of excellent palliative care.
"Recognizing that this is personal to everybody, we need to know what people want, what is important to them, and then make decisions with that in mind."
Dr. Erekson had a patient who was suffering from severe back pain, which increased to the point that it was debilitating. It turned out the man had a spinal tumor; a biopsy showed it was lymphoma.
"He was in severe pain," Dr. Erekson said. "I met with him in his home, talked with him about his symptoms.
"He had a lot of questions about a disease that didn't necessarily have to be answered by an oncologist. I was able to address and allay some of his fears just by answering his questions and clarifying his goals. He had a treatable or potentially curable lymphoma, but he didn't want to be debilitated by the pain."
Dr. Erekson and his team made adjustments to the patient's medication that day.
"He had relief overnight and within a couple of days was able to get out of the house," he said. "That's the impact of early palliative care."
What is palliative care?
Palliative care is specialty care for people who have a serious, usually life-limiting illness, said Dr. Dan Preucil, St. Luke's medical director of palliative care in Magic Valley.
"Examples would be advanced cancer, advanced lung disease, advanced heart disease, chronic kidney and liver disease," Dr. Preucil said. "Patients may have a lot of symptoms that need expert management, which palliative care can supply.
"They're often patients that are in and out of care settings, including the emergency room and the hospital, whether it's with decompensation of their illness or symptom issues that can't be controlled in the outpatient setting."
A common misunderstanding is that palliative care is hospice care. Hospice care is for patients who likely to have less than 6 months to live. The hospice patient usually has stopped treatment and access is opened to specific types of care, such as home and nursing care, pastoral care and social work support. A palliative patient can begin care as soon as he or she is diagnosed with an illness and can receive potentially curative treatment.
"If you can envision a big circle, that would be palliative care, and then a smaller circle within that big circle would be hospice care," Dr. Preucil said.