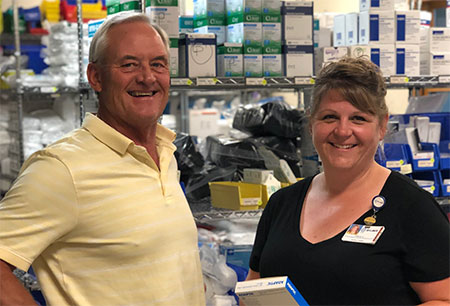 On June 5, Tanya Pinard, McCall supply chain technician, recognized that Mike Birkinbine, supply chain manager, was in trouble and needed medical attention quick. She took him to the emergency department. "Thank God Tanya was here," Birkinbine said.
As soon as Supply Chain Manager Mike Birkinbine walked into the McCall emergency room suffering from a stroke, staff members called St. Luke's Transfer Center in Boise to arrange transportation to the valley, connect with specialists, secure a bed and begin admitting him.
"We had the ER doctor up here in McCall talking to the neuro doctor and the hospitalist in Boise, all at the same time transport's working with Air St. Luke's and getting that going," Birkinbine said. "Boise and McCall were still talking as they're transporting me, because that's what they do, to stay informed about how the patient is doing.
"It's amazing how everything comes together. It's a very well-oiled machine, and it's because of the processes that people have spent so much time and energy developing."
The Transfer Center was established in 2012 to support providers in transferring their patients either from an outpatient clinic location or a critical access facility to St. Luke's. The Transfer Center created a hub and spoke model by coordinating the various resources – provider consult, accepting facility, bed assignment, transport, etc. – that previously were coordinated by the sending facility. The process improved patient safety and efficiency, getting the patients to the higher level of care more quickly.
The center also manages bed placement for St. Luke's four major campuses (more than 30,000 placements a year), handles direct admissions and manages consults among providers for all critical access hospitals and clinics, also supporting non-St. Luke's facilities. Staff members help care for more than 1,650 patients a month across the health system footprint.
"We depend on (the Transfer Center staff) so much it's ridiculous," said Dr. Todd Arndt, emergency physician at the McCall Hospital. "Before the transfer center existed, if I had a question for a consult, maybe a neurologist or a cardiologist, or if I had someone who was too sick to be in McCall, I had to get on the phone and I had no idea if I'd be successful. What the Transfer Center has done is create an automatic link to what we can't provide in McCall."
Dr. Arndt said stroke is a good example of how new protocols and the Transfer Center are saving lives and helping stroke sufferers regain their quality of life.
"The Transfer Center is the most important tool in enabling us to get patients to Boise and who should be caring for them," Dr. Arndt said. "Ten-, 20-plus years ago, these time emergencies weren't recognized. If you walked into a big hospital that had all these subspecialists and resources, you probably were likely to do pretty well, but walk into a small rural critical access hospital, your chances were not as good. Everyone who's not in the bigger hospitals is appreciative of what they do."
The Transfer Center became part of St. Luke's Virtual Care in 2016 and continually works to improve its processes. Last year, Transfer Center staff created a phone tree to manage an average of 8,500 incoming calls a month, to decrease the number of caller hang-ups. The number dropped from 465 in August 2018 to 147 the next month and decreased even further to 116 in June 2019. Hold times were reduced to an average of nine seconds.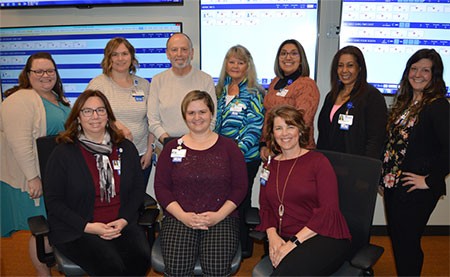 "Patients get the best care possible when we can streamline connecting our providers," said Katy Alexander, RN manager of the Transfer Center. "Patient care is started before the patient arrives. The providers can actually construct a plan of care for that patient together."
The center is staffed by three nurses and up to two specialists Monday through Friday, the busiest days. Staff members say their experience at the bedside has prepared them for the daily calls, but working in the Transfer Center has given them a more expansive view of what resources are available across the region and how moving patients to a higher level of care can make the difference in their survival.
"We bring a lot to the table with our experience," said Cindy Paustain, a Transfer Center registered nurse. "We make a big impact. It's a very rewarding job. It's a wonderful way to serve St. Luke's and the patient."
Staff said building relationships with nurses and physicians and working as a team across the health system are important to the process.
"It's a great opportunity to work with veteran nurses," said Mary Perez, a Transfer Center specialist. "No two days are the same. We see work from a provider's prospective. It is very rewarding. We're offsite but really our hands are in everything."
Mike Birkinbine said he's living testament that the efforts of all involved are paying off. He was back at work five days after his stroke without any lingering issues or loss of mobility.
"Everybody was phenomenal, all the way down to the guy who took me out in a wheelchair to get discharged," he said.
"It's amazing when you think about how many departments and how many people were involved in that process. It just makes you stop and appreciate things, and the importance of what we do here."