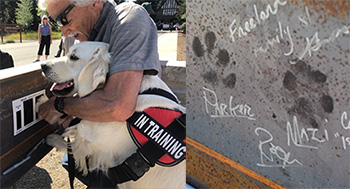 St. Luke's staff and the community celebrated an important construction milestone Aug. 12, raising and installing one of the highest steel beams of the structure that's to become a two-story addition to the St. Luke's McCall hospital.
Crews broke ground earlier this summer and plan to have the exterior of the building complete before the weather turns this fall.
Those who attended the beam-raising ceremony cheered the project's progress by leaving their mark, signing in permanent marker or with a paw print, in the case of the furry, four-legged attendees, before construction crews placed the first beam. Attached was a banner that read "building for the future."
The project plan, which includes an addition and remodel, does just that.
Once complete, the hospital will nearly double in available square footage, helping meet the demand of the growing community and modernizing the aging facility and dated infrastructure. Half of the current hospital is more than 60 years old and the other half, more than 20 years old, making it challenging to meet current regulatory, technology and connectivity standards.
The addition will allow St Luke's to build out and update existing services.
The first floor will include modernized emergency, laboratory, medical imaging and infusion departments. The second floor will house 15 private patient rooms, two purpose-built labor/delivery/recovery rooms, three operating room suites and one procedure room, pre- and post-surgery recovery bays and inpatient pharmacy and therapy services.
It is expected to be complete, with departments moved in, by mid-year 2020.
Remodel of the west side of the existing hospital will begin when the addition is complete and will house support services, conference rooms and administration offices. The oldest portion of the hospital, built in 1956, will be demolished and turned into surface-level parking.
The entire project is expected to be complete in 2022.
More than $5 million of the estimated $40 million total cost of the project was raised by the St. Luke's McCall Foundation through the generosity of community donations and grants.
Find the timeline of the McCall Development Plan online.