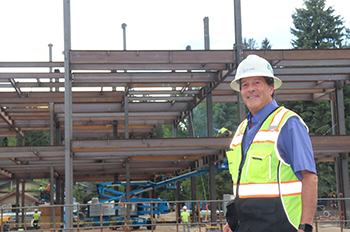 The Brown name is to McCall history as apple pie and baseball are to American history.
The family and their contributions have been pillars in the community for more than 100 years, beginning with Carl Brown who helped build the sawmill industry as a partner in the Hoff and Brown Lumber Co. He became the sole owner in 1930 when the mill was renamed the Brown Tie and Lumber Co. The family owned and operated the mill until 1964.
Today, Carl Brown's great-grandson, Stan Brown, carries on the legacy of building and investing in the community as the project construction manager for St. Luke's McCall's hospital facility replacement project.
Brown grew up in McCall, graduating from McCall-Donnelly High school in 1981. He worked as a lineman for 13 years before earning a bachelor's degree in construction management from Boise State University.
He joined St. Luke's in 1998 as a project manager of construction and has contributed to multiple projects throughout the system, including Boise's original children's center and the east tower emergency department expansion, the Eagle medical center, the Hailey medical office building, the Fruitland location, the Nampa hospital and many smaller projects. He's now leading the construction of the new medical office building in Nampa and the McCall hospital expansion.
"I've been excited to be a part of this project in McCall, ever since they began talking about it," Brown said.
The Brown family has left its mark throughout the community. Stan's grandfather, Warren Brown, founded the Little Ski Hill in 1937 and was one of the founding members of Brundage Mountain ski resort, along with J.R. Simplot and Corey Engen.
His father, Frank, also graduated from McCall-Donnelly and was the third skier from McCall to complete in the winter Olympics in 1960 at Squaw Valley, California. After skiing, Frank became a developer and an architect whose many designs are seen in the A-frame houses, condominiums and other buildings scattered around McCall today, including the King's Pine Estates.
The hospital expansion, which began this summer with the new two-story structure on the McCall campus, continues the multi-generational legacy. After the steel work is completed in early fall, framing, roofing and siding will begin. Work will continue all year and is expected to be complete in 2022.
"Our goal is to have the structure dried in before the snow flies too hard," Brown said.
This winter, work will focus on the interior of the building with clinical departments proposed to move in mid to late 2020.
Along with continuing the family tradition of building lasting institutions in the community, the work on the McCall hospital brings a distinctive satisfaction for the St. Luke's team member.
"I'm glad to continue the Brown family legacy in supporting the health and welfare of the community," he said.
Find the timeline of the McCall Development Plan online.