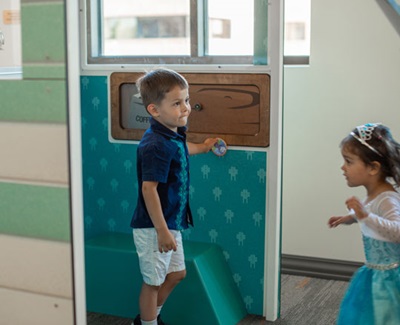 The new St. Luke's Idaho Elks Children's Pavilion is meant to put smiles on kids' faces – and health and healing into kids' lives – for decades to come.
Smiles were in abundance at the ribbon-cutting ceremony for the colorful and innovative kid-centered space in Boise on Saturday.
Thanks to generous support from the Idaho State Elks Association, more than 11,000 donors and many others, the $42 million, 100,000-square foot building on the corner of Avenue B and Jefferson Street in downtown Boise will open next month.
It was designed with input from hundreds of patients, parents and pediatric specialists. It features the state's first vector machine (which helps children learn how to be mobile again) and a whimsical and Idaho-centric design concept for each of its five floors.
"It's a great day," said Brian Wewers, former chair of the St. Luke's Children's Advisory Board. "It's very exciting, not only for me but for all the people who have donated in the community, the region and the state."
Dozens of benefactors and community members toured the building and celebrated the achievement on Saturday. The Children's Pavilion officially opens to patients Sept. 3.