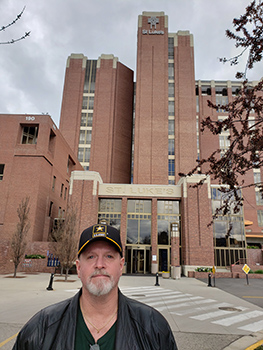 For years, Ron Hayward built metal signs. Today, he sees constant reminders of his work on buildings across the Treasure Valley.
"As I drive around, almost every main street has a sign on it that I built," said Hayward, a metal worker who built signs for two different companies between 1991 and 2001. "I get to see my work all over the valley all the time."
Hayward, a self-described perfectionist, takes pride in the work that he did.
But there is one project that stands out among the rest: the crosses and letters that hang on the sides of St. Luke's Boise's main building.
"I did the ones on Eagle Road in Meridian, and I did the ones downtown," Hayward said. "They changed the ones on Eagle Road, so those aren't my originals. But the ones on the building at St. Luke's downtown are still the original ones I built."
Hayward, 54, figures the signs are about two decades old now, and they've had to change with the times.
"The building has grown dramatically," he said. "They used to be pretty low to the ground, and now they're way up in the sky."
St. Luke's has played a big role in Hayward's life. His daughter was born at St. Luke's, as was his grandson.
Four years ago, Hayward battled for his life at St. Luke's.
"I have a family history of colon cancer, and I had a tumor that was too large to be removed via colonoscopy," he said. "I had to go into St. Luke's and have a procedure done. I was in and out in four days, and everything was working good.
"But two days later, my inner system shut down. … I was rushed in for emergency surgery. I spent about a month and a week (at St. Luke's). I dropped about 65 pounds laying in bed during that time..."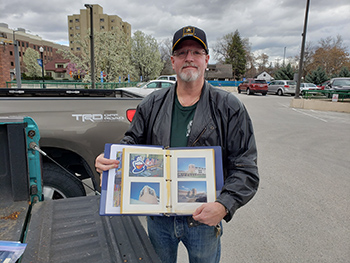 Hayward often sees his metal work on signs as he drives around the Treasure Valley. Here, he holds three photos of the St. Luke's crosses on the Meridian campus.
He said he appreciates the care that he received during that time.
"I was so well taken care of," Hayward said. "The nurses were just great. I just had a lot of support there, and a lot of family support."
He continues to beat the odds four years later.
"I'm very lucky to be a survivor. I've got all my weight back, and I'm pretty much back to normal," Hayward said.
Recently, Hayward posted a picture of the St. Luke's building with his metal work on Instagram. He included this post: "4 years ago I was given less than 2% chance of survival. I'm kicking strong like the letters and crosses I built on this much smaller building over 20 years ago. They survived as did I! Praise the Lord!"