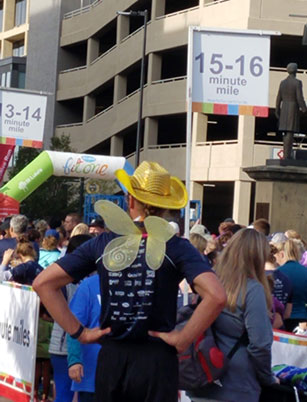 Building healthier communities.
It was easy to see the power of that aim Sept. 22, when thousands of men, women and children took to the streets of downtown Boise to participate in St. Luke's FitOne to run, walk, roll and stroll the 5K, 10K and half-marathon.
To those of you who joined us Saturday, attended the two-day FitOne Healthy Living Expo Sept. 20 or 21 or gave your valuable time as a volunteer, thank you for joining the St. Luke's family for such a special event on a lovely fall weekend.
Participating in FitOne is especially meaningful because it supports St. Luke's Children's Hospital. That support allows St. Luke's to care for more young patients while also allowing St. Luke's Children's Hospital, as a community partner, to support initiatives that improve the health of Idaho's children.
We know that achieving and attaining good health requires dedication, encouragement and access to resources for fitness and nutrition. St. Luke's is proud to be part of FitOne's mission to help people live healthier lives.
See you at the finish line again next year!