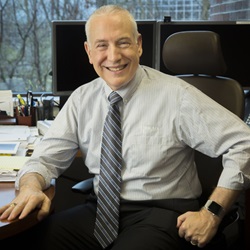 Physician burnout is a national problem. Many physicians suffer in silence; some end their lives.
At St. Luke's, we are taking steps to address this problem, including making a significant investment in physician leadership training and development. Here is today's guest blogger, Dr. Frank Johnson, vice president of medical affairs for our West Region, with more about burnout and our approach to this problem.
- David C. Pate, M.D., J.D.
---
Every patient deserves a doctor who is technically skilled, intellectually rigorous and compassionately honest. Here in Idaho and our region, we are blessed to have hundreds of doctors who meet that high standard every day, working tirelessly and selflessly to serve their patients.
But time, energy and emotional reserves are not supplied in unlimited measure, and eventually our own expectations of perfection and selflessness run into the realities of our limitations. When our personal needs are neglected for too long in deference to our patients' needs, something must give. Far too often, it is our relationships, our own mental health and our connections with our patients that suffer.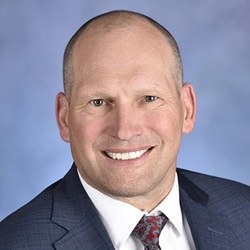 Stress and burnout are not unique to the medical profession, but rates of burnout are much higher for physicians than for most other professions, and the consequences to doctors and the patients they serve are profound. Burned-out doctors become emotionally and physically exhausted; they become depersonalized, seeing patients as irritants more than partners in healing. They lose the sense of purpose that inspired them to choose medicine as a career. The patients of a burned-out doctor are at greater risk of suffering from medical errors, their overall quality of care is reduced and they have a harder time accessing their doctor for appointments.
For too many doctors, mental health also suffers under these stresses. Tragically, almost 400 doctors in the United States die by suicide every year, leaving families, colleagues, staff and patients of these doctors to try and understand how someone so accustomed to success could suffer so greatly.
At St. Luke's, we are working hard to improve how we care for the caregivers, with the goal of being national leaders in provider well-being. We are not there yet, but are making positive strides. Among other things, we are working together to design systems that keep doctors connected with their patients, rather than burdened by paperwork.
Our recently implemented common electronic medical record is a fantastic tool for improving quality and patient safety, but it has also meant a dramatic change in the ways that doctors complete their work. Estimates vary, but for every hour of time with a patient, a primary care doctor may spend up to two hours on the computer. Often this is time spent after hours and on weekends.
We are working to change that metric by finding ways to get patient data into the medical record without sacrificing valuable physician time. Smarter voice recognition tools, improved pre-visit planning and more thoughtful use of our support teams during patient visits all hold promise and are being trialed to find what works best.
We are partnering with colleague physician and administrative leaders to support doctors who may be struggling with the stresses of their careers. We have implemented a peer support program and take part in joint training exercises. We also support the great work being done by the Ada County Medical Association, which has brought speakers in to help give doctors and other providers concrete strategies to address their own well-being.
These efforts have highlighted the need for administrative leaders to ensure the systems we implement effectively address the drivers of burnout. We have worked with physicians to help identify factors that contribute to burnout that may be unique to their specialties and have used the results of those conversations to implement specific strategies to address those issues. Better communication between administrative leaders and physicians, improved physician feedback mechanisms, stronger teamwork between physicians and the rest of the care team and greater access to wellness resources are all outcomes of the work that has been done so far.
Reducing burnout and promoting well-being is part of our broader effort to engage physicians and other providers to partner with us in fulfilling St. Luke's mission: To improve the health of people in the communities we serve. Our other provider engagement work includes improving the effectiveness of our provider communication, restructuring our physician leadership to achieve better and more efficient decision-making, reaching out to independent providers to help identify and remove barriers to their work with us and developing physician leadership development programs.
We still have a long way to go before we can claim success. To paraphrase Dr. Dike Drummond: Physician burnout is not a problem that can be solved. It is a dilemma that needs an ongoing strategy to address.
I am pleased that St. Luke's administrative leaders recognize the gravity of this dilemma and have prioritized efforts to turn this trend around. When, as happened at a recent leadership meeting, our system chief financial officer is asking physician leaders how we are doing at addressing burnout, I know we are making progress.
Our journey will not always take the most direct path, but I am confident that we are headed in the right direction.