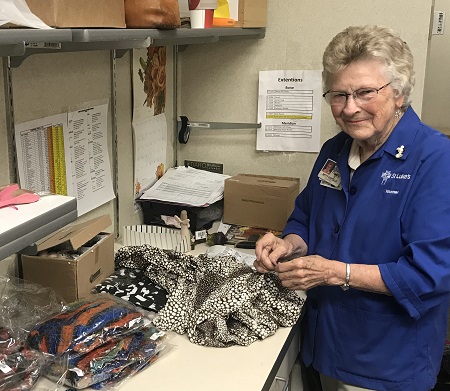 There was a time people drank milkshakes and smoked cigarettes in the lobby of the St. Luke's Boise hospital. Betty Costello remembers it well. It was once her job as a volunteer to empty the ashtrays and scoop the ice cream. Costello, who has served as a volunteer since September 1968, continues to give her time to the hospital 50 years later.
At the time, St. Luke's was seeking coffee shop volunteers with advertisements that would seem unusual today: "Want to lose a few pounds and inches and eliminate those growing bulges? Want to keep those trim figures in shape for skiing? We've got the solution. Be a coffee shop volunteer!"
The advertisement wasn't the draw for Costello. She took up the hobby as a way to pass time while her husband worked out-of-town and her children were in school.
"I decided I needed to do something to get out of the house," Costello said. "The boss's wife was a volunteer and I thought shoot, I'd like to do that, too. And so I have."
Over her five decades as a volunteer, Costello tackled a variety of jobs. She started by escorting new moms and babies out of the hospital in wheelchairs. "But I didn't like going down the ramp backwards. That really bothered me," she said with a chuckle.
Costello moved on from there to passing food trays, before settling in at the coffee shop where she remained until it closed.
"We waited on customers and if you forgot where their order went someone would tell you," she said. "We used to make milkshakes and sodas out of hard ice cream. It was neat."
In addition to her accomplishments at St. Luke's, Betty has been quite active in the Boise community. She volunteered during the former Boise River Festival, was honored at the Governor's Brightest Star Awards program for 42 years of service, and volunteered at the Western Idaho Fair information booth until it was no longer a volunteer operation.
These days, Costello splits her Wednesdays between the inpatient pharmacy and the gift shop store room at St. Luke's. Behind closed doors she sorts deliveries, opens boxes, checks merchandise and separates items to be distributed to each hospital gift shop.
"I enjoy seeing what comes in," she said. "It's amazing what these ladies order."
At 81 years old, Costello still volunteers an entire full work day. With her husband now home and retired, she doesn't plan to stop volunteering any time soon, and adds with a laugh that it gets her out of the house.
"I'll be here as long as I'm able," Costello said. "I thoroughly enjoy it. I really do. I just need to do something else. I just can't stay home all the time."
When adding in blood drives and special auxiliary sales, Costello has put in more than 13,000 volunteer hours over 50 years for the staff, patients and visitors at St. Luke's.
"Everyone that works with Betty loves her. Her work ethic and naturally strong values are unparalleled," said Renee Zerwas, volunteer services director for St. Luke's Health System. "For those fortunate to volunteer alongside her and can keep up with her energy, they always come away with a friend and a powerful example of dedication and commitment."