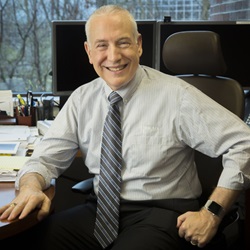 My wife and I were talking recently about how the advancement of medical science has shown that what we did as parents, making sure our babies were put on their stomachs in their cribs and then surrounded with stuffed animals so that they did not flip over onto their backs, was the exact opposite of what we should have been doing.
Similarly, when I was in practice and cared for critically ill patients in the ICU, we were very careful about moving intubated patients in bed – and at most, to a chair – because we feared they would become extubated. We also kept them heavily sedated.
We have come to learn that less sedation and early mobilization, including ambulation, which we never would have contemplated all those years ago, actually improves these patients' outcomes. Here to tell you more about our early mobilization program and what it is doing toward better outcomes and lower total costs of care is St. Luke's Health System Communications Coordinator Chereen Langrill.
- David C. Pate, M.D., J.D.
---
For intensive care unit (ICU) patients, getting up, moving and actively engaged in recovery can be the difference between returning home and going to a long-term care facility.
To support these patients, St. Luke's is embracing several approaches that help them get out of the hospital sooner and increase the chances they can return to the lives they had prior to hospitalization.
The dangers of delirium
When an ICU patient experiences delirium, it can derail recovery.
People who are delirious can experience hallucinations and paranoia or struggle to maintain a normal sleep cycle. Studies have compared delirium to a traumatic brain injury in terms of how it can impact a patient's mental function long after discharge.
The risk of delirium increases when someone is in intensive care. And the longer someone is sedated or heavily medicated, the greater the risk.
Studies show that people who remain in an ICU for longer periods of time are more likely to develop delirium and may be less likely to return to their prior level of independence, said Carrie Ford, St. Luke's speech pathologist and rehabilitation clinic program coordinator for critical care.
"We are trying to better manage these patients so we don't lose them through the cracks," Ford said.
Ford and Stephanie Taylor, St. Luke's physical therapist and rehabilitation clinical program coordinator for critical care, are working together to increase early rehabilitation interventions, including occupational therapy, physical therapy and speech pathology, to improve ICU patient outcomes.
To reduce the risk of delirium, St. Luke's providers are:
Evaluating patients' pain to determine how it can best be managed;
Getting patients up and moving sooner, even while they are still on ventilators;
Keeping patients engaged throughout the day to avoid disorientation;
Opening window blinds to help patients keep track of day and night hours; and/or
Encouraging family members to bring in familiar items from home, such as blankets or photos.
Early mobility
St. Luke's critical care team has been working toward early mobility in the Boise and Meridian ICUs for several years now. Recent initiatives have brought further focus on what the entire early rehab team can do to provide best-practice models in the ICU environment. The concept has picked up momentum in recent months and has become a systemwide initiative.
"Since we have started the early mobility program, we have seen decreased length of stay," Taylor said. "More patients are going home rather than to a rehabilitation facility, and getting off a ventilator faster."
Giving non-verbal patients a voice
The next step is to provide caregivers tools they can use to improve communication with patients when they cannot speak or face other barriers when trying to communicate.
Beginning in fiscal year 2019, a communication cart will be part of St. Luke's ICU settings. Tools on the cart that patients can use to communicate include an eye-gaze board, white board, hearing aid batteries and reading glasses. Journals let families document the patient's care journey during their stay. All caregivers working in the ICU will be trained to use the resources to best meet patients' communication needs, Ford said.
When a plastic tube is inserted into a patient's trachea during intubation to maintain an open airway, that patient cannot talk, and if they are awake, the inability to communicate can cause anxiety and a feeling of helplessness. Other communication barriers can be caused by hearing loss, visual loss and weakness that may, make it hard for patients to write down their comments or point to words on a board.
Giving patients the ability to communicate helps them stay engaged in their care and gives them the ability to ask questions or express concern. In addition, it gives patients the ability to participate in decisions.
When Taylor and Ford attended a critical care conference presented by Johns Hopkins Hospital, they heard former ICU patients talk about their experiences.
"They will usually only remember bits and pieces of their ICU stay," Taylor said. "It is important we get people off sedation as soon as possible so they can get engaged in their environment, moving to limit muscle loss and working on activities of daily living."