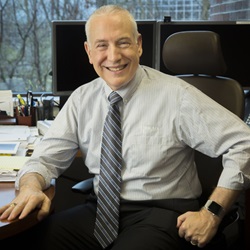 I have often written about community health here. Addressing community health often means addressing the social determinants of health, including food security. Food insecurity is a significant problem in Idaho, affecting 13.2 percent of the general population and 16.7 percent of children.
Here to tell you what St. Luke's is doing to partner with others to address this problem in our communities is St. Luke's Communications Coordinator Chereen Langrill.
- David C. Pate, M.D., J.D.
---
More than 16 percent of Idaho's children aren't sure when or how they will receive their next healthy meal.
That troubling trend is known as "food insecurity," and it refers to a lack of dependable access to nourishing food. A recent study from national hunger relief organization Feeding America found that 221,800 adults in Idaho (13.2 percent of the population) are food insecure – and that 72,840 Idaho children (16.7 percent) are as well.
Lower access to nourishing food can be caused by challenges like limited family resources or living in "food deserts" or rural communities where the nearest market can be 10 or 20 miles away. Regardless, the poor nutrition that results can be a gateway for multiple health problems. Studies show that people who are food insecure are more likely to have such conditions as diabetes and high blood pressure.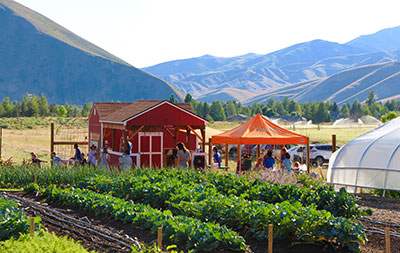 Fresh produce is grown for the Veggie Rx program, which is a collaboration between St. Luke's Wood River and The Hunger Coalition.
In keeping with St. Luke's mission – To improve the health of people in the communities we serve – the organization partners with like-minded groups that address many aspects of the food insecurity puzzle, making grants and expertise available, helping to launch and conduct programs and convening best-practice and networking discussions and planning sessions.
Among the partnerships:
Veggie Rx in Wood River
St. Luke's Wood River recently participated in a pilot program that helped people with diabetes get better access to fresh produce.
St. Luke's Wood River and The Hunger Coalition have a long-standing relationship and teamed up in the summer to launch the test concept, based on a national program called Veggie Rx. The Hunger Coalition used its gardens to provide the produce during the summer, said Erin Pfaeffle, St. Luke's Wood River director of community engagement.
While St. Luke's and St. Luke's Center for Community Health often refer patients to The Hunger Coalition, this was a new opportunity to help a specific patient population with limited access to fresh vegetables. St. Luke's surveyed diabetes patients to learn whether they were food insecure, and identified 10 patients as candidates for the program.
"One thing that has come out of this is that we are now incorporating that food insecurity question into our regular screening for diabetes patients," said Nancy Dettori, diabetes education manager at St. Luke's Wood River.
Those who participated were given an average of 6.5 pounds of vegetables each week, in addition to recipes, cooking demonstration access and an invitation to volunteer with The Hunger Coalition (volunteers have access to more vegetables). Those with transportation barriers were given bus passes.
Organizers will review data from this first year, including participant surveys taken at the beginning and end, to determine next steps, but it looks like the approach can succeed at removing barriers and building connections that can improve health.
"Working with a partner to increase opportunities for access to fresh produce for patients with a chronic illness and food insecurity is a win," Pfaeffle said. "It has started us thinking creatively about how to impact people's health outside of the hospital walls."
Food is Medicine in the Treasure Valley
As with the Wood River program, a partnership in the Treasure Valley focuses on a specific population to give participants access to fresh produce.
Health screenings and intervention are two key components of the Food is Medicine program, offered through the Idaho Hunger Coalition. A Community Health Improvement Fund (CHIF) grant from St. Luke's is supporting the program in Ada, Canyon, Gem and Elmore counties.
Food is Medicine is a partnership between the Family Medicine Residency of Idaho, the Idaho Hunger Relief Task Force and Healthy Eating Active Living (HEAL) Idaho. Patients who are food insecure and who have at least one chronic condition, such as diabetes or high blood pressure, are identified in clinic settings and then referred to the program. Rx for Community Supported Agriculture then helps those participants receive boxes of fresh, locally grown fruits and vegetables each week.
Cascade Food Pantry, Donnelly farmers market
Located 70 miles north of Boise, Cascade is a rural community with approximately 1,000 people. The small community has limited access to fresh food, and access is especially challenging for residents with limited incomes.
The Cascade Food Pantry helps fill that need by providing nutritious food to people with limited resources. It has become a community effort. Students from Cascade High School built garden beds to grow fresh produce. Volunteers help distribute food each week. Community meals are also served at the Pantry.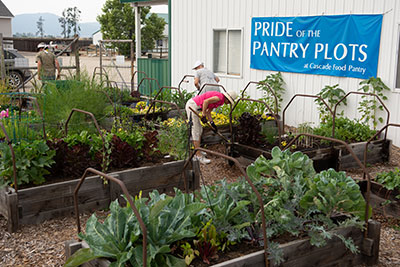 St. Luke's also has been instrumental this past year in launching a seasonal farmer's market in Donnelly. The market, the only such program in the area that accepts EBT cards (food stamps), also featured health support such as blood pressure screenings. Shoppers using their Supplemental Nutrition Assistance Program (SNAP) benefits cards received additional coupons to use toward purchasing additional fruits and vegetables.
Organizers conducted pre-and post-market surveys that showed that elementary school students' and food bank users' fruit and vegetable consumption increased to four servings a day, up from 1.5 servings, with nearly 60 percent attending the market.
Cooking Matters in McCall, Boise and Twin Falls
Free cooking classes that teach food preparation and food budgeting are offered through the Idaho Foodbank throughout Idaho, including St. Luke's service areas where the health system provides a variety of support.
Cooking Matters, a program developed by national hunger advocacy group Share our Strength, is open to people who live on limited incomes. The six-week course is available to adults, seniors, children and families.
Taught by a volunteer chef and nutrition educator, participants learn:
Cooking techniques, food safety, storage and sanitation
How to prepare nutritious and delicious food on a budget
Nutrition information
Budgeting tips
Participants take home a bag of groceries after each class so they can practice their new skills at home.