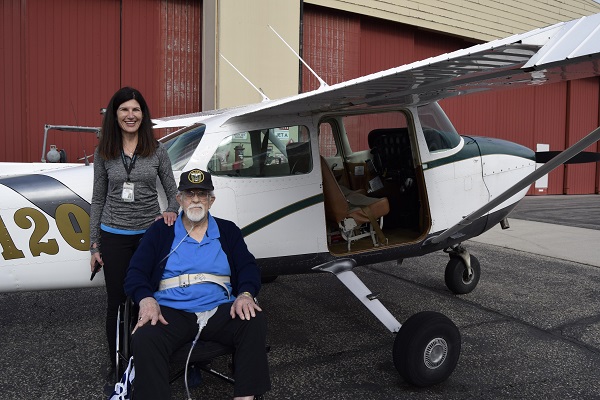 A local Vietnam veteran pilot took what's likely his final flight Thursday.
Almost 50 years after Don Koon flew in the war, even being shot down at one point, the former Army chief deputy officer had the opportunity to fulfill his dream of being back in the sky -- this time over the Treasure Valley.
Koon served two deployments in Vietnam in the 1960s, piloting a Cessna L-19/O-1 Bird Dog. He survived being shot down, he says, when his airplane landed in the treetops.
Today, Koon is under the care of St. Luke's Hospice at Avamere Transitional Care and Rehabilitation in Boise. Suffering from chronic heart failure, he shared his one last wish with St. Luke's social worker Kathe Gallagher.
"I was talking about what it would be like to fly one more time like a Bird Dog," Koon said.
"Don told me all he wanted to do was fly again, but knew he couldn't because he relies on oxygen," said Gallagher, who contacted Koon's medical team to inquire about the possibility. As long as his oxygen tank and Dr. Deric Patterson, Koon's physician, could be on the flight, then Koon had the OK for take-off.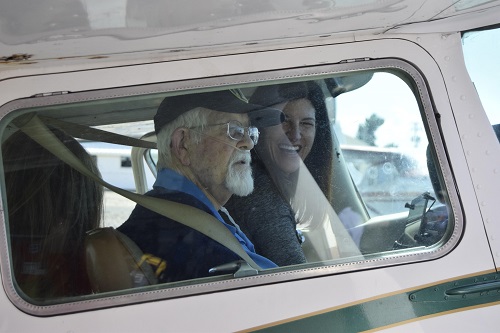 With the propeller officially in motion, the St. Luke's Hospice team reached out to Ponderosa Aero Club and Wish Granters. Wish Granters is a local not-for-profit that helps adults with terminal illnesses make one last memory, both for the patient and their families. Together, the groups coordinated a pre-Memorial Day flight on board a four-seater Cessna.
"It was unexpected. I was shocked and said, 'This is going to be awesome. I was tickled to death,'" said Koon, describing his reaction to learning what his caregivers had orchestrated for him.
Fortunately, the weather on Thursday, May 24, cooperated, and blue skies allowed for a smooth morning flight over Boise and the Treasure Valley. Koon was joined by Dr. Patterson and Gallagher for a 90-minute adventure with sights that include Lucky Peak, the Boise River, the Foothills and local farmland.
While they were taking in the view from above, a St. Luke's medical team was on standby on the ground to offer guidance, were it needed.
During the return portion of the flight, pilot Sharki Kontra invited Koon to land the plane – just like during his old Army days.
"She wanted me to, but I said, 'No. No.' I didn't want to mess anything up," Koon said. "Too many people. No, you just keep right on flying."
"You knew what I was doing the whole time," Kontra told Koon. "You were watching me. Your eyes were watching everything I was doing, huh?"
"Had to keep ya straight," laughed Koon.
Although speaking is now difficult for Koon, he shared with Kontra and the crew that it felt good to be back up in the sky.
"It was fantastic. It was great! I could do this two or three times a week."
"You're a good co-pilot," Kontra replied. "We could make a team of this and do this a lot. Three days a week? You got time?"
"Sure."
As a fitting end to what is likely Koon's last trip on an airplane, he repeated his official flight sign-off during Vietnam: "Bird Dog 82 finished the flight."
This Wish Granters flight is one example of how St. Luke's implements the "We Honor Veterans" program. The national initiative is a partnership with hospices around the country, the Veterans Administration and the National Hospice and Palliative Care Organization (NHPCO).
As a four-star partner, St. Luke's Hospice works to raise awareness of veteran culture among staff and volunteers and to acknowledge patients like Koon and thank them for their military service, finding opportunities to meet their needs and desires during end-of-life care.
KTVB was there for Koon's flight, and placed a GoPro camera inside the cockpit.
Watch the full story here
.