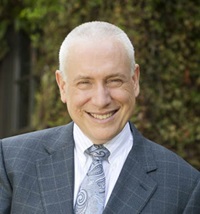 Physician burnout has been a big topic across the country. It's not new, but it does seem to be occurring more often and to greater numbers of physicians, perhaps exacerbated by the increasing complexity of running a practice.
The work of physicians is changing in other ways as well. Today, there is much more of a focus on team-based care than when I was in practice, yet few medical school or residency programs prepare physicians with skills development in leadership, professionalism, interpersonal relationships, communication, change management and how to effectively lead teams.
In St. Luke's Clinic, we are assessing these skills in our physicians, providing feedback and coaching, with a measurable impact. Here is my guest blogger, Dr. Kurt Seppi, executive medical director for St. Luke's Clinic, to describe the program and some early results.
- David C. Pate, M.D., J.D.
---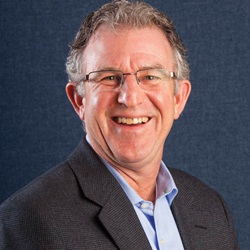 Dr. Kurt Seppi
I recently came across an article about physician burnout and the need to redesign care models to restore meaning and sanity for physicians.
It talked about teamwork and its importance in addressing not only physician burnout but many of the challenges in the ever-changing and increasingly complex landscape of healthcare delivery.
When I started practice in the 1980s, I joined two well-established physicians who had been practicing together for more than 30 years. They were excellent physicians who cared deeply about their patients and staff.
As was the case for virtually all physicians in that era, they were self-employed, worked long hours in the clinic, made daily hospital rounds and had the added responsibility of addressing operational issues in the practice. Remarkably, they had none of the symptoms of 'burnout' that are so prevalent in practice today.
To be fair, back in the day, practice was less complex. Chart notes were handwritten for the most part and completed in a matter of minutes. Coding was reasonably straightforward, insurance authorizations rare and submitted bills paid without question.
Human resource issues were handled by the office manager who also performed front- and back-office duties. There was no EHR 'in-basket'.
The advancement of medical science, innovative treatments and improvement in outcomes over the past three decades have been tremendous, but at the same time, job satisfaction for many physicians has declined as the clerical, business and administrative aspects of medicine have become more burdensome.
Team-based care has been identified as one element of practice redesign that could address some of the challenges that lead to physician dissatisfaction. However, team-based care will require effective and consistent physician leadership, not necessarily an inherent skill possessed by all physicians.
St. Luke's is committed to physician leadership and is willing to invest in programs that further develop physicians as confident and capable leaders. An engaged provider workforce is essential so that we can drive a culture that supports our employees, providers and partners to be exceptional in their roles.
Physician leadership does not mean having all the right answers, but rather obligates physicians to communicate clearly, invite participation, ensure accountability, address aberrant behavior and promote a culture of respect.
To these ends, St. Luke's has launched a new initiative to enhance the core competencies of professionalism and interpersonal and communication skills that are needed for effective physician leadership.
The program consists of a series of surveys that generate a score for each provider, with standardized feedback about how they are perceived by peers and staff regarding positive and negative teamwork-related skills and behaviors.
Participants then have the opportunity to meet with professional coaches to review results and set any quality goals that might be indicated. In selected cases, additional coaching and self-study modules may be recommended.
Anonymity is strictly maintained. Individual survey results are seen only by direct supervisors and will not be used for corrective action or recorded in quality files. This is of paramount importance in establishing trust with our physician partners.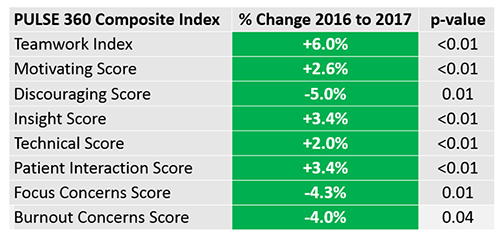 This shows the level of improvement (p<.05) on every Pulse 360 index for this group
Effective change management principles show the value of gathering baseline data followed by post-intervention comparative data to document improvement related to a specific initiative. We now have objective data on the first 384 physicians in 35 groups in the St. Luke's Clinic who have completed the program.
What follows is an example of how one of our highest-performing groups scored at baseline and then in a follow-up survey after education and coaching opportunities were offered to each provider.
And here is how individual providers (small black boxes) and the entire group (lavender and yellow diamonds) performed relative to national benchmark norms, where scores in the upper right quadrant are preferred.


This shows improvement in TI for this group after Pulse 360 feedback and education/coaching


More than 800 providers have now completed the initial survey and 384 of those have completed both pre- and post-intervention surveys. Aggregated data shows that the 30 percent of providers that were initially identified as below-average performers showed major improvement in teamwork scores. And while above-average performers showed only slight improvement in teamwork scores, many received helpful insight and subsequently took advantage of coaching opportunities.
It's clear that team-based care is a logical approach for relieving some of the non-patient care burdens experienced by providers and, if done well, should enhance quality, safety, efficiency and patient-centered care priorities. The preliminary data would suggest the program is a good investment in leadership training, and one way to support our providers as they navigate the disruptive and complex changes occurring in healthcare delivery.