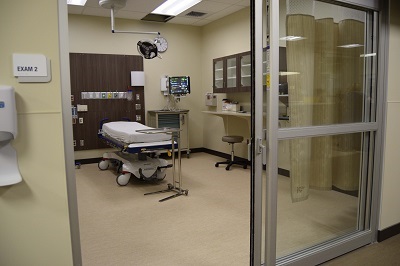 Each spring St. Luke's employees are invited to contribute to a campaign that funds both large and small endeavors focused on improving patient care. In 2017, more than $1 million was contributed, and that goal is expected to be reached again this year.
St. Luke's employees are backing the organization's mission by contributing to the annual "I Give" campaign, which enables the health system to expand its reach in terms of services for patients by supporting services and projects that wouldn't otherwise be available at St. Luke's, which is a not-for-profit health system.
Services such as the music therapy program provide a welcome distraction and source of comfort for children facing treatment, and community health fairs offer free screenings and education about preventable illnesses. Funds raised through the campaign also provide emergency patient assistance to help with utility bills, transportation, medication and other urgent needs that can't be met because of financial barriers.
Capital campaigns require strong support to reach ambitious goals. In Boise, this includes the Idaho Elks Children's Pavilion. When completed in 2019, it will offer double the current clinical space and bring most of St. Luke's pediatric specialists and services to one location.
Other capital projects around the health system include:
A new medical office building in Twin Falls, which opened in March 2018, includes St. Luke's outpatient clinics and services in an expanded space to serve more patients in a single location.
A new infusion center in Wood River, which opened in July 2017, allows more patients to receive care in the Wood River area and closer to home.
Patients (and families of patients) at St. Luke's Mountain States Tumor Institute in Fruitland will one day have a place to stay closer to treatment. Construction on the Respite House is expected to begin in late 2018.
St. Luke's expansion project in McCall includes updates to modernize the facility and additional space to serve more patients.
"We need more square footage and contemporary space to meet evolving healthcare needs in the local communities we serve," said St. Luke's McCall administrator Sean McCallister. "It's estimated we currently have only 60 percent of the actual space needed to care for our increasing patient population and to provide new and enhanced services in the future."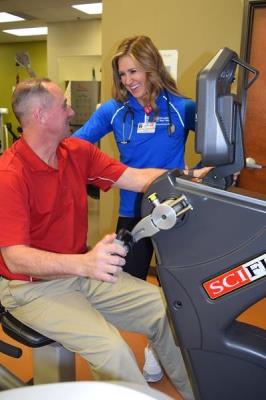 Kevin Stellingwerf, an employee at St. Luke's Magic Valley, supported the campaign to fund the new Cardiopulmonary Rehab Clinic where he later became a patient.
At St. Luke's Magic Valley, one employee learned firsthand what that support could mean when he became a patient. Employee support helped fund St. Luke's Cardiopulmonary Rehab Clinic in Magic Valley in 2016. Kevin Stellingwerf, who works as an IT analyst at St. Luke's Magic Valley, contributed to that campaign. He never imaged he would become a patient at the clinic months later. In November 2016, Stellingwerf had a heart attack. After successful treatment, he went to the new clinic for rehabilitation. On the day of his first scheduled visit, he happened to receive a thank you note for his donation.
"I donate all the time during the employee campaigns," Stellingwerf said. "But to actually have it benefit me as well as the community was amazing."