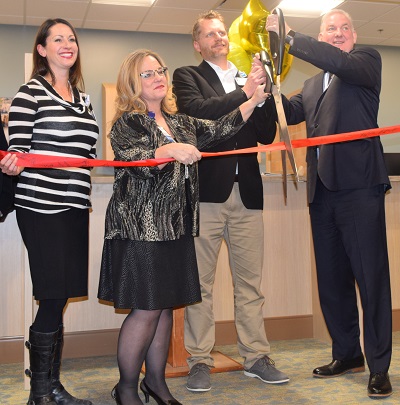 A crowd gathered in the lobby of St. Luke's Magic Valley's new Medical Plaza 2 in Twin Falls on Feb. 21 for a celebratory open house.
After short speeches, a blessing by the staff chaplain and a ribbon cutting, community members and hospital staff were welcomed for tours of the new building.
"It represents more than a building," said Mike Fenello, St. Luke's Magic Valley administrator. "It represents improved access to care."
Medical Plaza 2 will open to patients March 5. The new medical plaza is located on the east side of St. Luke's Magic Valley campus at 625 Pole Line Road West.
"We recognize that we have an important role in serving the health needs of our community, and we are excited to provide this new facility to the Magic Valley, to our patients, to our providers and to our employees," said Debbie Kytle, St. Luke's East Region Physician Services administrator.
The cost for the construction, fixtures and equipment of the new building was about $27.2 million.
At nearly 58,000 square feet, the new facility will help St. Luke's better serve its patients and creates space for additional expert health-care providers and resources to serve the Magic Valley.
"Since St. Luke's Magic Valley opened in 2011, we have been committed to addressing the needs of our growing community," Kytle said. "Medical Plaza 2 will enable us to continue to provide high-quality care to meet those needs."
This medical office building will house St. Luke's outpatient clinics and services, including internal medicine, occupational medicine, endocrinology and diabetes management, otolaryngology, rehab services, pain medicine and outpatient imaging services. Similar specialties will be housed in pods within the medical office building. This co-location of services will enhance care for our patients.
This new space was designed with patient care and comfort in mind. The medical plaza will utilize new technology, for instance, that allows for a more convenient patient check-in.
Clinics and services will make the transition as seamless as possible for patients and will maintain the same convenient hours.
"As we continually strive toward our goal of improving the health of people in the region, we need to continue to increase access to care, which requires the right number of providers and clinics," Kytle said. "This new medical office building is a monumental step in that direction."
Clinics and Services at Medical Plaza 2
St. Luke's Lab Services
St. Luke's Medical Imaging Services
St. Luke's Clinic – Pain Medicine
St. Luke's Clinic – Physical Medicine and Rehabilitation
St. Luke's Clinic – Spine Care
St. Luke's Clinic – Occupational Health
St. Luke's Drug Screening Services
St. Luke's Clinic – Behavioral Health Services
St. Luke's Clinic – Endocrinology and Diabetes
St. Luke's Diabetes Education Services
St. Luke's Clinic – Internal Medicine
St. Luke's Clinic – Palliative Medicine
St. Luke's Clinic – Ear, Nose, Throat and Facial Plastic Surgery
St. Luke's Rehabilitation