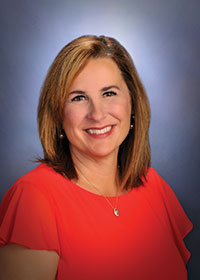 Elizabeth Steger, MSN, RN, NEA-BC, FACHE
In 2021, St. Luke's and its teams were stretched beyond anything we had ever experienced.
Although I did not join St. Luke's until June 2021, this organization and our nursing team quickly earned my respect.
Our nurses are the cornerstone of our health system's mission to improve the health of people in the communities we serve. You have devoted your lives and careers, especially during the past two years of the pandemic, to supporting our patients and our teams. I want to reinforce my admiration and appreciation for the sacrifices you and your loved ones have made as you invested in caring for our community, adapted to ensure appropriate care for our patients and demonstrated commitment to one another.
As we are moving toward the endemic phase of COVID-19, know that St. Luke's is committed to supporting the well-being and regeneration of our team members as our health system recovers. As a nursing workforce, it is exciting to reimagine how we do our work, and we will need your voice and feedback to do it.
In addition to building a stronger cultural connection as a team, we drive toward reimagination. In 2022, we will create a sustainable nursing workforce plan; revitalize shared governance; test new delivery care methods, allowing each of you to work at the top of your license and competencies; and focus on the development of our nursing team members.
Furthermore, St. Luke's has committed to our important Safety Together initiative, which reaches from our leadership to our front lines and focuses on patient safety by reducing and eliminating preventable harm. Safety Together represents our efforts to create a physically and psychologically safe environment and equips us with proven practices to cement our reputation as a high reliability organization people can consistently count on. This work is at the forefront of our continued improvement and consistency efforts to support all team members, especially our nurses, as they care for patients systemwide.
Joining St. Luke's during such an impactful time has inspired me as a leader, especially as I have had the opportunity to meet so many of you, observe your diligent care and hear so many stories over the past few months. I look forward to continuing this important work and am honored by the opportunity to serve as a leader to our wonderful nursing teams throughout St. Luke's. I am thankful you are living your "why" here with us.
With warm regards,
Elizabeth Steger, MSN, RN, NEA-BC, FACHE
Senior Vice President Clinical Practice Integration and Chief Nurse Executive/ Magnet CNO
---