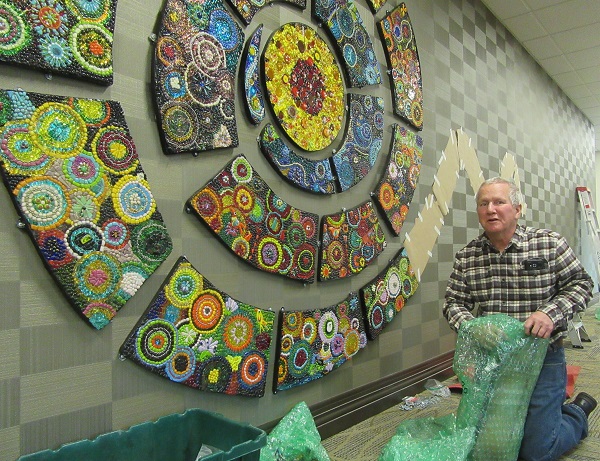 Richard Herdegen has been battling Parkinson's disease for years, but he has not let it stop him from sharing his passion for art.
The Meridian artist recently completed a seven-month project to create an intricate 12-foot mosaic sculpture for the new St. Luke's hospital in Nampa. The circular mosaic, which is located on the first floor of the Nampa hospital near Breast Cancer Services, is filled with hundreds of colorful pieces of glass.
St. Luke's Nampa Administrator Ed Castledine praises Herdegen's dedication and the beauty of his work.
"In spite of his own health challenges, Richard enhances the healing environment," Castledine said. "St. Luke's is fortunate that someone with Richard's talent and compassion chooses to benefit us through his inspirational work."
Herdegen's journey with Parkinson's began in 2011 after donating a kidney to a friend. He became concerned when his recovery took longer than expected.
When he retired he turned his focus to volunteer projects, including a large-scale mural created for the St. Luke's Children's Specialty Center.
He believes the Nampa piece will be his final big project because his symptoms are making it difficult to create larger pieces. He will continue making smaller pieces, including jewelry.
"My Parkinson's continues to advance. It seems like each month brings another of the symptoms Parkinson's is known for," he said.
Herdegen had deep brain stimulation surgery two years ago. The operation, performed by Dr. Timothy Johans, helped ease the tremor in his right hand. He said will be forever grateful to Dr. Johans, because the surgery enabled him to continue doing the art he loves.
"That operation, which I had at St. Luke's, was a gift from God," Herdegen said. "Without that operation I would not be able to do my hobby."
St. Luke's Rehabilitation Art Show Celebrates Creative Healing
Rehabilitation patients who have created art to help with their healing process will display their work on April 5 from 4:30 to 7:30 p.m. at St. Luke's Rehabilitation, 600 N. Robbins Road (fourth floor) in Boise.
The public is invited to attend. All artwork will be available for sale (check or cash only) and all proceeds go directly to the artists.