Boise Mosaic Artist Creates Happy Distraction for St. Luke's Kids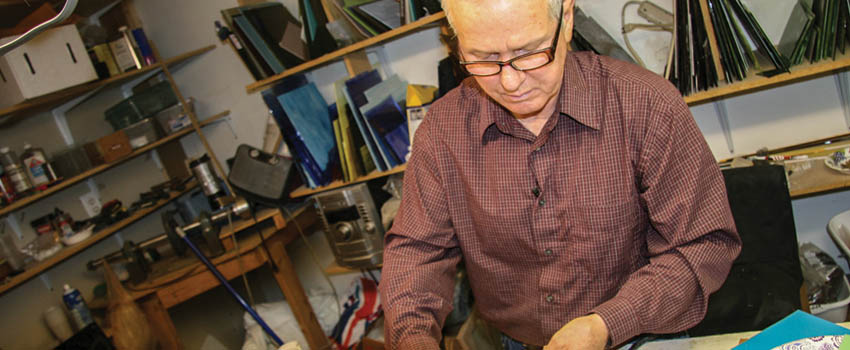 By Chereen Langrill, News and Community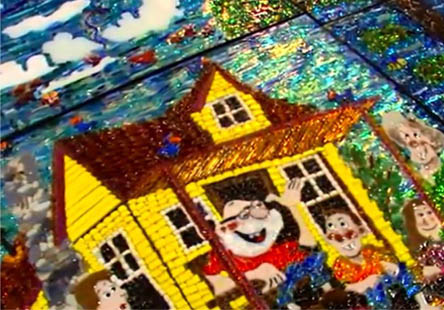 Mural by the numbers: Twelve panels in the mural; 90,000 individual pieces of glass; 800 pounds is the mural's total weight; 3,000 hours to create the mural; seven months needed to create the individual pieces of glass used for mosaic pieces.
Richard Herdegen fuses fire with glass to create mosaic pieces that fuel the imagination. He created a colorful 12-piece mosaic mural unveiled Tuesday, April 28, 2015 at St. Luke's Children's Specialty Center, and he hopes it will capture the imagination of hospital patients and visitors.
While a mural made from glass may seem fragile and potentially dangerous, the reality is the opposite. When glass interacts with fire, it becomes a powerful force. It can withstand tremendous pressure without breaking. Richard discovered how tough it really was when he tried to dismantle one of the first panels in order to make some changes. It took nine attempts with a framing hammer to break apart the pieces.
Like the mural itself, Richard has the ability to remain strong under pressure. He spent 3,000 hours over the course of 1 ½ years to complete what he describes as the largest project he has ever done.
It was a labor of love fueled by his passion for mosaic art and the realization that his time could be limited. Richard, 63, has Parkinson's disease. His symptoms will eventually accelerate to the point that it will be too challenging to do the craft he loves so much.

"I'm hoping for a slow progression," he said. "That's what all people with Parkinson's hope for."

Happenstance led to Richard's diagnosis in January 2011. He was a kidney donor for a friend a few months earlier, and he became concerned when his recovery took longer than expected (fatigue causes Parkinson's symptoms to become more exaggerated).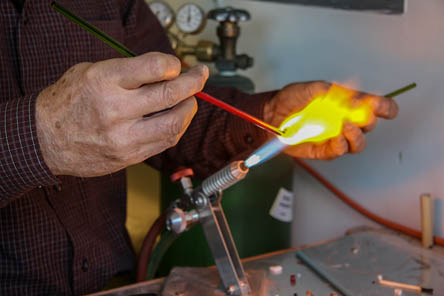 As a marathon runner and a frequent participant in the grueling Race for Robie Creek Half-Marathon, Richard has always embraced challenges. He took a matter-of-fact approach when faced with the Parkinson's diagnosis, digging deeper into his art in order to churn out as much work as possible while his body would still allow him to perform the intricate tasks involved in mosaic work.
He often works with children on art projects. That interaction lead to an opportunity to develop a mural for Children's. Richard embraced the idea because of the potential it had to provide an outlet for happiness.
"I wanted to create a fun diversion for kids who are in the hospital," he said. "I wanted to give them 10 happy minutes."
Tiny bits of glass come together to tell stories on the mural's 12 panels. But the stories are mere outlines. The development of the plotline is up to each viewer. The mural includes images showing kids and frogs playing near a pond, colorful hot air balloons drifting across the sky, and a July Fourth celebration.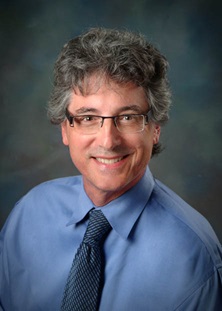 Dr. Greg Janos, Executive Director of St. Luke's Children's Hospital, says Richard's mural will indeed create a happy distraction for patients and visitors, but it will have an even greater impact.
"Visual arts are a huge part of the healing process for children," Dr. Janos said.
Katie Apple, Director of Operations for St. Luke's Children's, said many patients return for additional treatment, and the mural's rich detail will give those returning guests something new to discover each time they visit.
The mural's presence also conveys the community's support and will help visitors and patients feel a sense of belonging, according to Dr. Janos.
"It gives people a way to ease their fears and make them comfortable," he explained.
Art has been a source of solace for Richard throughout his life. He is a software engineer by trade with a math degree from San Jose State. Throughout his career, while working at Hewett Packard and other software companies, he would retreat to his garage studio to work on art projects before going to his job. He frequently went out to his studio between 1 and 3 a.m. before going to work, and continues to keep early hours in his studio even after retiring.
Richard and his wife of 43 years, Diane, were high school sweethearts. She didn't realize his interest in art would become a lifelong passion.
"I thought I was marrying this mathematician who liked to surf," Diane recalled. "But he had this creative side."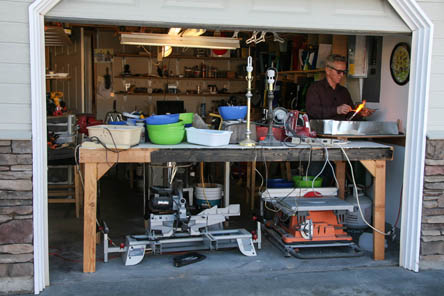 Richard Herdegen working in his garage/artist's workspace.
As an artist living with Parkinson's, Richard has called upon some of his strongest qualities in order to complete the glass mural. He has always loved challenges. And as a marathoner, he knows what it takes to keep pushing through a lengthy battle that tests the mind and the body.
Finishing a race is something runners take seriously. You don't give up when your muscles start to scream. Richard was determined to finish the mural, and he pushed even harder because of the uncertainty surrounding his symptoms.
"It caused me to step on the gas," Richard said. "You never know how much time you'll have to work on your craft."
The mural is constructed with a steel frame that Richard welded in his garage studio. Most of the time his Parkinson's symptoms are mild enough for him to safely operate the welding equipment. When his symptoms are more exaggerated due to fatigue, stress, or tension, it's a different story.
His right side shakes when his tremors begin, and managing the welding equipment and working with hot glass can get "wild."
Katie described Richard as a "phenomenal partner and collaborator." The two worked together to plan the concept for the mural's design. They agreed it should convey the values that are upheld by St. Luke's Health System: promoting wellness and well-being, an active lifestyle, and community.
Katie and Dr. Janos agree that St. Luke's Children's wouldn't be the same without generous donations like the mural.
"It's incredibly important and meaningful," Katie said. "To have something like Richard's art for people to enjoy is priceless."