St. Luke's Focuses on Earlier Palliative Care for Advanced Cancer Patients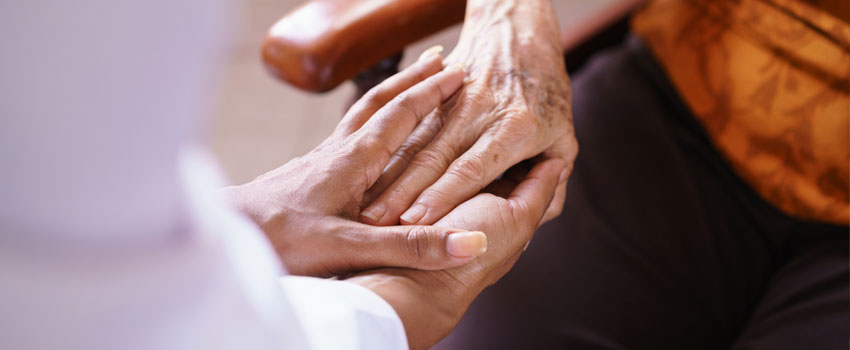 By Chereen Langrill, News and Community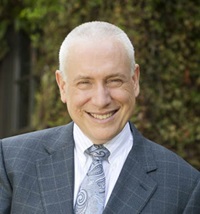 St. Luke's Health System is focused on improving outcomes and lowering the total cost of care, and we know that outcomes can be improved even for patients with terminal illnesses.
Reduced symptoms, better-managed symptoms and improved quality of life, all are areas of great opportunity, and palliative care can help us achieve those better outcomes for patients with advanced illness. Palliative care can also help lower the total cost of care by decreasing the need for emergency room visits and hospitalizations.
Here to explain more about how palliative care is being incorporated into the treatment of patients with advanced cancer being treated at St. Luke's Mountain States Tumor Institute is St. Luke's Communications Coordinator Chereen Langrill.
- David C. Pate, M.D., J.D.
---
A pilot program at St. Luke's is helping patients with advanced cancer live more fulfilling lives.
Offered through St. Luke's Mountain States Tumor Institute in Boise, the program was inspired by a landmark study that shows multiple benefits of providing palliative care services early in the course of a serious illness.
Palliative care has traditionally been offered to patients with advanced cancer when they approach end of life and symptoms have worsened. The St. Luke's pilot connects people with resources much sooner.
"Our goal is to have people live as well as they possibly can," said Dr. Bill Bollinger, who is leading the two-year pilot.
Dr. Bollinger said the aim is to help patients feel more satisfied with the care they receive, help them have better control of their symptoms, decrease the need for emergency department visits and reduce stays in the hospital. Dr. Bollinger, who specializes in internal medicine, hospice and palliative medicine, served as hospice director at St. Luke's and now splits his time between St. Luke's Internal Medicine and his new role at MSTI.
Patients who are diagnosed with advanced cancer are automatically referred to the program. The goal is to meet with those patients within eight weeks of their diagnosis. In that initial 90-minute visit, the team performs a detailed assessment to learn more about the patient and their family. They listen to patients' hopes and fears around diagnosis and treatment. Advance care planning is discussed and symptoms are assessed and treated.
In addition to Dr. Bollinger, the team includes Social Worker Tina Johnson, Nurse Practitioner Kathleen Clifford and Nurse Coordinator Kim Watson.
When someone is diagnosed with advanced cancer, they often feel overwhelmed and unsure of where to turn.
"Confronting mortality is one of the biggest stressors," Dr. Bollinger said. "You feel powerless and out of control because the diagnosis is a shock."
There are many unknowns that come with the diagnosis, and the team can help patients find answers by connecting them with appropriate resources at the beginning of their journey.
"It's about walking with them," Clifford said.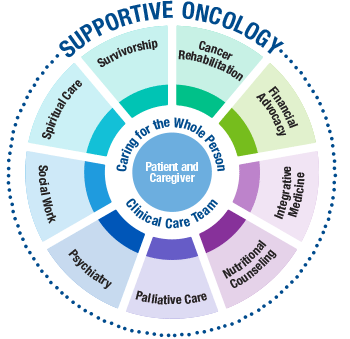 Palliative care is part of the supportive oncology program at St. Luke's MSTI, which includes services that reduce symptoms and manage stress.
For example, acupuncture can help patients manage treatment symptoms such as pain, nausea and anxiety. Counseling is available to help patients deal with the emotional side of the diagnosis. Financial advocates can help with concerns about how to navigate the cost of care within a reduced household budget. Strength training helps patients address issues such as weakness and fatigue.
"We are here to help you live comfortably, and the way we do that is by helping you manage stress and symptoms. That's why it is totally necessary to be part of that supportive oncology network," Dr. Bollinger said. "A doctor can't do that alone. You need all of these resources."
The concept of providing earlier supportive services was a key theme in a study by Dr. Jennifer Temel, associate professor of medicine at Harvard Medical School and director of the Cancer Outcomes Research Program at the Massachusetts General Hospital (MGH) Cancer Center.
The study was published in 2010 in the New England Journal of Medicine, and showed that early involvement of palliative care reduced symptoms and improved quality of life.
Dr. Temel will discuss her study this spring in Boise.
"We are fortunate to have this level of service here in Boise," she said.
It's a cultural shift that is long overdue, according to the team working on the pilot program.
"Palliative care is no longer considered end-of-life care. It's a routine part of cancer care," Dr. Bollinger said.