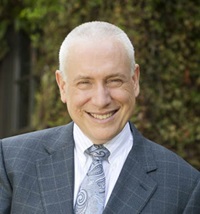 I am amazed by the kindness and generosity of people.
There are people who generously give of their time and money for various causes, and then there are people who give a bit of themselves, whether an organ or peripheral blood stem cells, to help others suffering from a variety of diseases.
Those who donate peripheral blood stem cells may have to take off from work, travel out of state and incur other expenses and challenges when they come up as a match for a patient in need.
Now, with the establishment of an apheresis center at St. Luke's Mountain States Tumor Institute, Idahoans and residents in states bordering ours who wish to serve as donors don't have to take as much time off from work and no longer have to make lengthy journeys to donate. Here with more about this critical need filled by St. Luke's is St. Luke's Communications Coordinator Chereen Langrill.
- David C. Pate, M.D., J.D.
---
New services through the blood and marrow program at St. Luke's Mountain States Tumor Institute in Boise will make it easier for patients to receive life-saving care.
Each year, more than 14,000 people need a stem cell or bone marrow transplant to survive. In truly selfless acts of generosity, donors help fill that need by providing stem cells or bone marrow.
That process is easier now that St. Luke's MSTI in Boise has become the first site in Idaho to be designated as a National Marrow Donor Program (NMDP) Apheresis Center.
Apheresis is the process of donating stem cells or bone marrow; specifically, it involves peripheral blood stem cell harvesting (PBSC) to collect blood-forming cells for bone marrow transplants. Certain cancers can keep cells from developing normally, and a transplant is needed to give the patient new cells.
There are more than 13.5 million volunteers on the NMDP registry, and they stand by, ready to answer the call for help when a match is identified. For people on the registry and living in Idaho, that used to mean time away from home and work to travel to cities such as Seattle, Salt Lake City or Denver for the donation process. If the call happened when potential donors couldn't step away from commitments, it could cost precious time in the race to help a patient.
In late 2017, St. Luke's MSTI in Boise removed that barrier by becoming a donation center, helping to ease the national shortage of collection centers. St. Luke's already has been asked to work with donors from California and the East Coast.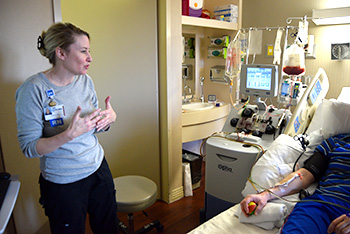 "This allows donors that live in Idaho to have their stem cells collected in Boise and then the cells are shipped to wherever the patient is that needs them," said Jody Acheson, Bone Marrow Transplant/Hematologic Malignancies Program manager for St. Luke's MSTI.
In turn, the new center designation is a bridge to the allogeneic program that St. Luke's MSTI plans to launch in April. St. Luke's MSTI has performed autologous transplants since 1993. Autologous transplants use the patient's own stem cells, while allogeneic transplants use cells from a donor.
The common thread between the NMDP Apheresis Center and the allogeneic program is the time and money it will save donors and patients who would otherwise have to travel for the procedures.
"By becoming an NMDP apheresis center, it will make it easier for us to request donors when we have allogeneic recipients here," Acheson said.
Establishing an apheresis center in Boise is significant for NMDP/Be The Match, according to John Philpott, the organization's community engagement representative. In addition to the benefits it brings to donors and blood cancer patients awaiting a bone marrow or stem cell transplant, it also helps the organization provide better support to the people it serves.
"It decreases NMDP costs, allowing us to serve our donors and patients more effectively," Philpott said. "Most importantly, it increases the speed and efficiency with which we can deliver life-saving marrow transplants to the thousands of patients Be The Match serves each year."
According to Philpott, an estimated 40 percent of PBSC donors across the country – between 1,500 and 2,000 donors each year – need to travel outside of their own region to make their donation because they don't have an apheresis center near their home.
"St. Luke's Boise now provides a much easier way for donors in Idaho, Western Montana, Eastern Oregon and Northern Nevada to make their donation with greater ease and far less time away from home," Philpott said.
St. Luke's MSTI had to meet specific requirements from the NMDP to earn designation, and a team from the bone marrow transport program spent a year working to ensure requirements were in place.
The team expects to serve about two donors each month. The center had its first donor this winter and several new donors are scheduled for procedures at the center within the next couple of months, according to Acheson.
NMDP guidelines prevent donors from being identified by name. The first donor to utilize the center explained that without the option to complete the process in Boise, he would have had to spend several days away from home. He had registered for the program two decades ago and received a call in early 2017 that he was a match.
"The apheresis center at St. Luke's was a much simpler process for me than I had originally anticipated," he said. "I especially was concerned at first that I would have to take extra time away from my work in order to donate. The coordination between Be The Match and St. Luke's made the whole process more seamless for me."