St. Luke's spine clinic's journey to delivering focused, efficient care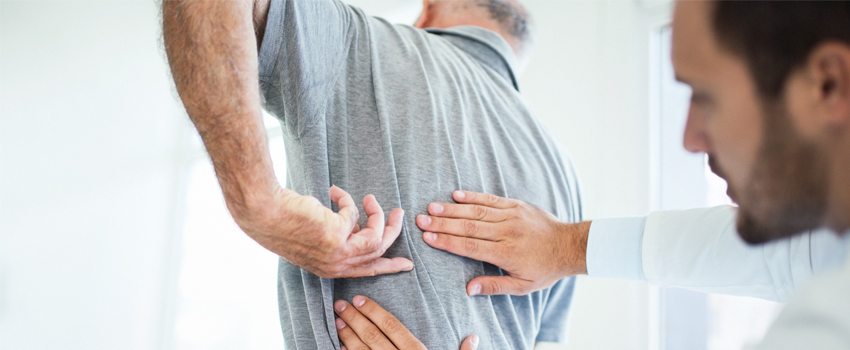 By Chereen Langrill, News and Community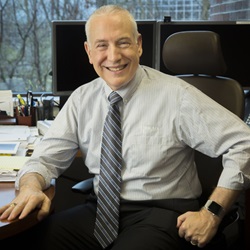 Spine care is a great example where many are asking the wrong question.
While some insurers and patients may be focused on the cost of the imaging procedure or the surgery, St. Luke's is asking whether the imaging study or the surgery are needed to begin with.
There has been a lot of over-utilization of imaging and surgery in evaluating and treating back/neck pain. Here is St. Luke's Communications Consultant Chereen Langrill with a report on what St. Luke's is doing to remedy this.
- David C. Pate, M.D., J.D.
---
In 2009, Medicare spine surgery rates listed Idaho as first in the nation for the number of spine surgeries performed per capita.
That designation represented an opportunity for St. Luke's Health System, where providing better care at lower cost is a driving force behind many initiatives and programs.
St. Luke's initiated a project that helps evaluate patients in a standardized manner and offers a comprehensive, conservative approach to spine care. And while there is still room for improvement, the new thinking is proving to be a game-changer for people suffering from back pain.
It's all part of the journey for St. Luke's Clinic – Spine Care.
"We are really making a shift," said Alex Penrod, St. Luke's spine services manager.
St. Luke's spine care incorporates nurse navigation to help identify the best treatment approach for each patient.
Historically, when a patient would visit a provider for help with back pain, the options for treatment would typically include referral to a surgeon. Now providers are encouraged to send patients to the spine care clinic, where care can be designed in one location. The result is often a less invasive approach, such as therapy. The team approach helps prevent acute pain from transforming to chronic pain and reduces the need for surgical intervention. And when surgery is needed, surgeons know all other conservative resources have been exhausted first.
St. Luke's spine care clinic began as the Center for Spine Wellness. In 2016, the clinic moved from its one-room space on Shoreline Drive to a larger location with nine rooms at St. Luke's Meridian's medical office building.
In addition to a small clinic at St. Luke's Boise, another clinic expanded in early 2018 as part of the new medical office building at St. Luke's Magic Valley. In 2020, a new spine care clinic is expected to open in Nampa.
The Meridian clinic now has physiatrists and advanced practice practitioners (the original location had one) in addition to a nurse navigator who works with patients at all locations. In October, the clinic will embed a physical therapist. The next phase is likely to involve a virtual health component in McCall.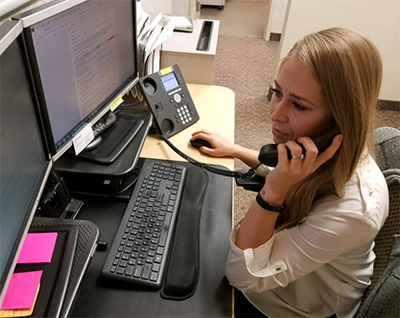 Amy Ulrich, nurse navigator for St. Luke's spine care clinics, helps determine the best care needed for each patient by speaking with them during a phone call prior to the clinic visit.
As word spreads about the program's benefits, data is beginning to reflect the team's hard work. Internal referrals to the spine care clinic have nearly doubled in 2018.
As the clinics' nurse navigator, Amy Ulrich serves as the front line for most patients. Ulrich spends most of her day on the phone, calling patients prior to their visits to determine whether their pain is acute or chronic and what type of treatment they will need first. She then schedules a visit based on the information she gathered during the phone call. It reduces the amount of time patients spend visiting with multiple providers and multiple locations, helps them avoid expensive and unnecessary tests and can prevent the need for emergency department visits.
This more conservative approach includes a reduction in advanced imaging. Penrod wants patients to come to the clinic "as a blank slate" so the team can efficiently determine the best approach prior to any other measures. Advanced imaging, such as magnetic resonance imaging (MRI), can cost hundreds of dollars out of pocket, and if the patient responds well to more conservative approaches such as education, physical therapy or anti-inflammatory medications, it isn't necessary.
"We are driving more conservative measures," Penrod said.
Ulrich helped Shauna Strauch find a direct pathway to care for her back pain. Strauch, the office manager for St. Luke's Ortho/Neuro service line administration, had back pain that was so severe she couldn't sleep and struggled to do routine daily activities. Even applying makeup in the morning caused sharp pain to shoot down her right side down to her leg.
After a phone call with Ulrich, she saw a spine clinic provider and received physical therapy and stretching and strengthening exercises to continue at home. Before the treatment, she needed to take pain relievers and muscle relaxants, but now she doesn't need medication and her pain is gone.
"The conservative approach says, 'We're going to rule out everything else first,' and I appreciate that," Strauch said.