Memory Bears Provide Comfort and Warm Memories of Loved Ones
By Chereen Langrill, News and Community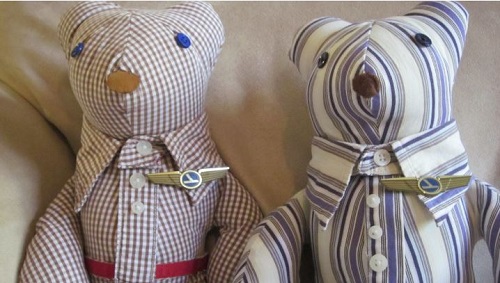 Ladybugs. School pride. Suspenders. Details that capture someone's unique characteristics help loved ones find comfort after they're gone. St. Luke's Hospice helps people hold on to those precious memories by making teddy bears. These custom bears are made using a patient's favorite piece of clothing and often contain other details that reflect their hobbies or interests.
For 15 years the project has been a labor of love, according to Karen Jeffries, St. Luke's Hospice volunteer coordinator.
The idea began when Kennette McWilliams, who was then working as a social worker for St. Luke's Hospice, was grieving the sudden passing of her father-in-law. McWilliams' mother-in-law used some of her husband's clothing to make bears for her grandchildren. McWilliams' children cherished the bears so much that she shared the idea with Bernita Henry, a St. Luke's volunteer who was also a talented seamstress. Henry recruited women from her church to help make the bears, including Barbara Beck, another St. Luke's volunteer.
"It was just one of those things we just kind of stepped into," Beck said.
Beck estimates the women made thousands of bears over the years. Henry passed away a couple years ago, and medical challenges have prevented Beck from making bears recently but she hopes to begin making them again one day soon. Other seamstress volunteers have stepped in to help continue fulfilling bear requests from families and loved ones.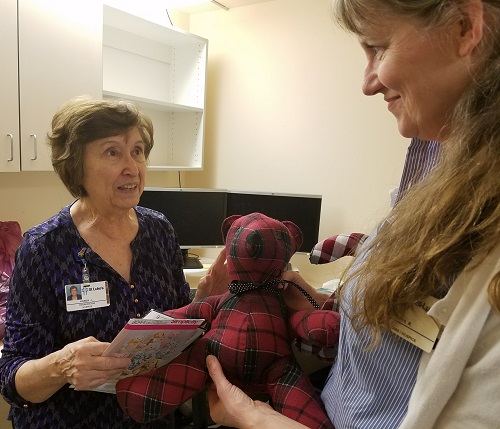 Karen Jeffries and Tamara Robertson talk about the creative process in the St. Luke's Hospice office where they sometimes prepare material for the stuffed animals.
McWilliams, now the operations manager for St. Luke's Homecare and Hospice, has watched the bears provide comfort for countless families.
"It's called a transitional object," McWilliams said. "You can't wash grandpa out of those clothes. We all have a unique smell. Even if you launder it before you sew it, that smell will be there. And those sensory memories are still there."
Loved ones bring in clothing or other personal items (like a blanket) that represent favorite memories or best capture the patient's personality. The volunteers try to make as many bears as possible from the items they receive. They have made bears from uniforms, fishing or hunting gear and sweatshirts.
Beck remembers that she and Henry would take the material home and place it on their beds, waiting for an idea to take shape. It usually takes about 10 hours to create a bear.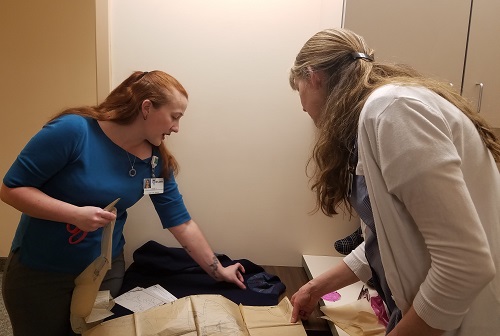 Stories don't often filter back to the women who make the stuffed animals, but occasionally they hear how their work has provided comfort.
Once volunteers made a bear to represent a patient who always wore suspenders. Beck found a way to trim his suspenders down to fit the small bear and also added a small pair of jeans and glasses. When the volunteers took the bear out of the bag, the patient's grandson exclaimed "grandpa!"
Beck recalled another time when she made a bear as a last-minute request in memory of a 10-year-old boy. The family wanted to have the bear for the boy's funeral service, and Beck learned that during the service the boy's mother held the bear for comfort.
"These items are just a way for family members to identify with that season and time when their loved one was healthy. That their illness doesn't totally define them," McWilliams said. "It can be the memories of them wearing that shirt. Being able to hold their hand. It's symbolic of so much of them as a person."
Help Make Memory Bears
St. Luke's Hospice needs volunteers who can help make bears or help with other memory projects. To volunteer, contact Karen Jeffries by email or call the St. Luke's Hospice office in Boise at 208-381-2721.