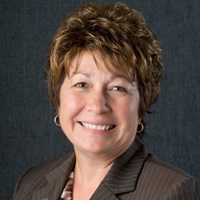 Kathy Moore, vice president of St. Luke's Acute Care Division
I think by now many readers are conversant with health care reform and what it means for hospitals, physicians, insurance companies and other entities.

There's no denying that health care, and the way we as providers deliver health care, has changed, is changing and will change. Most of us probably agree that something has to be done. Costs continue to soar, access to affordable insurance continues to be harder to find and the future is uncertain, and incentives in our traditional fee-for-service world are misaligned.
At the same time, and especially here in Idaho, we don't like others meddling in our business. So while we are all pretty much in agreement that something has to change, we don't all agree that we're the ones who have to change.
But while we may not agree with the specifics of reform legislation, the good news is that the legislation does not dictate how we will make the necessary changes. There is one sure thing. Changes to health care, including St. Luke's health care, will be significant.
Those of us who work in health care will need to be nimble and adaptable. We will be required to continue the change we have already experienced – and reach for more.
So, what about the human side?
As we navigate these changes, we cannot lose our focus on patient-centered care. Patients and families will still seek us out for the services we provide. People will continue to be sick, in pain or experiencing other health issues that need our intervention. They will be afraid. They will still expect us to help.
Doing so in a changing environment will not be easy or comfortable. It will be challenging. It might cause us to consider giving up. We will need to overcome trepidation and anxiety by recognizing that our world is changing, that our cheese has moved, as physician and writer Dr. Spencer Johnson so memorably put it.
But what is life if it isn't to continually challenge oneself? For most people, dreaming, searching and striving are big parts of the experience, and some of the best. People seek out and embrace change: They take on new job responsibilities, they advance their educations, they purchase new homes, they get married and have babies (Have I told you? I'm a new grandma!! Sweet Baby Caroline has changed my life.) …
I think of the many St. Luke's employees who have faced tremendous change and provided amazing service through all of it, many of them for decades. Here are just a few examples.
George Hage. George has been with what is now St. Luke's Rehabilitation for more than 40 years. No stranger to the manual typewriter, he has wryly described himself as an IT pioneer because he was the one often called upon to unstick its keys.
How did he persevere and remain resilient throughout so much change?
"It's because I love the job," George said earlier this year. "I love working with the people. The staff has always been so positive, and you see really neat things happening. I mean, it's just been a great place for me to have a career."
Dianne Vickers recalled trundling the large, bulky X-ray machines all over St. Luke's, processing the film by hand in the darkroom, without computers of course, and hand-dipping films into the chemical tanks. That was in the late 1970s when she started; St. Luke's Boise was only three stories at that time.
Moving to computers was huge, and Dianne noted that our recent electronic health system implementation was, for her, a shift of that magnitude. That spirit of resiliency and of family is what Dianne stayed to be part of.
That resilience can be rare, though. When change is not our idea or not in our control, many people will stick with old habits and old thoughts. Quite often, people miss opportunities because they resist change and are unwilling to try new things. They remain complacent. They blame their spouse or their boss or the president; they whine about how life has given them a bad hand; they feel sorry for themselves or they give up.
In our changing health care environment, we question how we will be able to provide great care while at the same time keeping a focus on costs and quality. Are we not already doing more for less?
The trick is to look at what we are, what we stand for and why we do what we do. Then, and only then, can we make rational decisions to prepare for our changing future.
Gary Fletcher, St. Luke's beloved former chief executive officer, was often known to remind us that "it's sacred work that we do." He kept our work in focus. He kept us focused.
I've heard others express similar ideas. Here are some who have inspired me. (I'm sure they didn't know I was taking notes!)
"People don't change until staying the same is more uncomfortable than changing." – Dr. Samantha Collier, former chief quality officer.
"If we fear disruption, we will only make minimal improvements." – Dr. Brian Fortuin.
And Kate Fowler, one of our financial administrators who truly understands the value of marrying the financial and the clinical: "Constraint breeds innovation."
The organizations that will succeed in navigating this new health care terrain will deploy physicians and nursing leaders at the front lines to break down silos, inspire care redesign efforts and assure accountability. The organizations that succeed will be those that embrace a culture of innovation.
On the flip side, I was at a national hospital association meeting recently and heard a CEO say their fairly prominent hospital organization intended to stay with the fee for service model as long as possible. Unfortunately, their cheese is also moving, and reliance or expectation that fee for service is going to proceed as it has historically may not be a successful strategy.
It helps to be resilient, and to be a dreamer. From the iron lung to the polio vaccine, dreamers have literally changed, and improved, the face of health care. As Dr. Marshall Priest, the recently retired executive medical director of St. Luke's Heart, would say, "Better has no limit."
I also believe that excellent health care starts with excellent people. Health care workers give of themselves every day, in every area. Our colleagues provide hope and healing, day in and day out, at the most vulnerable times in a patient's life.
As providers, we have one foot on the fee-for-service dock and the other foot in the boat pulling out to sea. It is precarious, and it's okay to be anxious. Here's my encouragement for those who find themselves in that position right now.
Feel good about what you do and your deep commitment to the communities we serve. You are the best chance for health care improvement, and to define our future.
Be proud of what you do. Be happy with what you have. Be change-seekers. Be engaged. Be who you really are; it will be enough to overcome most obstacles. Be successful.
While legislation may be revised, reform is here to stay. It is time to embrace deliberative steps to prepare for new incentives, new care delivery models and a higher level of cost and quality accountability.
The challenges facing our industry will be profound. We will need to search out new and innovative approaches to health care delivery. I know that we will work together across the continuum of care in a manner that best serves our communities.
I have been blessed to work with so many truly talented individuals. I am so grateful to be part of the amazing St. Luke's family, and confident in the success of our future.