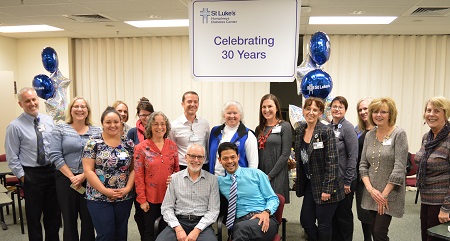 Current and former employees at St. Luke's Humphreys Diabetes Center in Boise gathered for a celebratory luncheon Tuesday.
The timing of the event was perfect: November is Diabetes Awareness Month, and Tuesday was World Diabetes Day. In addition to that, the event marked the 30th anniversary of the St. Luke's Humphreys Diabetes Center.
Rick Goodwin, the director of operations for Humphreys, joined the staff in April. Since then, he's been impressed by the passion of the employees that surround him.
"It's amazing to watch this staff," Goodwin said. "It's a tough discipline to be in, and you've really got to have a passion for it. It's almost a calling for them."
Goodwin said he was pleased that the Humphreys Center – and its staff – got to enjoy the spotlight for a day.
The goal of the clinic since its inception is to educate and support children and adults as they work to manage their diabetes and live healthy, active lives. The program has served more than 2,000 people each year -- with verifiable success. In 2015, 80 percent or more of the patients reported moderate to significant improvement in two or more of these areas: medical plan, healthy eating, physical activity, mood and stress.
"Care has come a long way," Goodwin said. "And for people to be able to come in here and get the expertise and service that has been provided here for 30 years is just amazing."