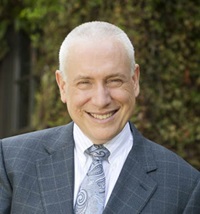 With a stroke, every minute counts. Too much time to treatment may mean certain therapies are no longer available to the patient and the neurologic deficits are more likely to be permanent.
At St. Luke's, we have made a science of studying every step along the way, from the onset of symptoms to the interventions we provide to stroke patients to keep shaving minutes and seconds off of the timeline, and that means better outcomes for our patients.
Here with a report about our stroke program and its nationally ranked outcomes is today's guest blogger, St. Luke's Communications Coordinator Chereen Langrill.
- David C. Pate, M.D., J.D.
---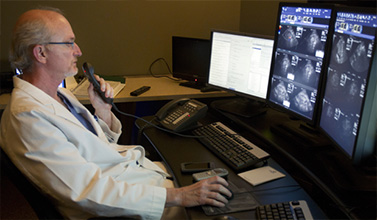 The New England Journal of Medicine's 2015 series of stroke studies may have been big news in the medical community, but it was old news at St. Luke's, where the studies reinforced the merits of a process already in place.
The studies focused on mechanical thrombectomy, a treatment that threads a catheter into a cerebral artery and removes the clot that is causing the stroke. Once the clot is located (guided through CT imaging) a stent retriever is used to open the vessel and remove the clot.
St. Luke's had been using the treatment for more than three years when the 2015 studies were released.
"That was the first level-one evidence we had that doing the mechanical thrombectomy confirms benefit," said Dr. Tony Bell, a St. Luke's interventional neuroradiologist. "We had been doing this a long time."
"The New England Journal of Medicine published all of these trials and it has changed everything about how stroke care is being delivered," Dr. Bell said.
"We were already doing that in Boise, but what it means to us is not only do we have to do it faster, we have to build systems of care."
The St. Luke's stroke program's continued excellence has earned national recognition, including a Healthgrades five-star rating in stroke for five consecutive years and Healthgrades Distinguished Hospital for Clinical Excellence recognition for St. Luke's Boise and Meridian. Healthgrades also ranked the Boise and Meridian hospitals in the top 5 percent in the nation for treatment of strokes in 2015, 2016 and 2017.
Stroke care is personal for Dr. Bell. His grandfather died from a stroke, and it influenced his decision to pursue a medical career specializing in stroke.
"That is why I do this," Dr. Bell said. "It had such a big impact on me."
In the field, in the ambulance, at the bedside and everywhere in between, St. Luke's and its community partners have methodically worked to cut down stroke response time. In doing so, the team has improved outcomes and prevented significant costly consequences for an untold number of patients.
EMS relationships prove critical in stroke care
A monthly multidisciplinary case review helps the team evaluate processes that work and shows where improvement is needed.
Treasure Valley stroke program manager Teresa Smith said the review step has helped the team find ways to shave off valuable seconds in the treatment process, treatment that begins before patients enter St. Luke's doors, based on collaboration with emergency medical services (EMS). Partnering with EMS agencies has been critical, helping to ensure faster care from the moment a call for help is made until the patient begins receiving treatment in the hospital.
Efforts in Canyon County show just how significant the team approach can be.
Steve Blados, division chief of training and clinical medicine with Canyon County Ambulance District, was part of a 2016 pilot program between St. Luke's Meridian Emergency Department, Ada County Paramedics and Canyon County Paramedics. As part of the four-month pilot, teams analyzed every step of the process it takes to get a stroke patient to treatment.
That pilot helped refine the process, resulting in faster brain CT scan times and CT results, a 20-minute improvement in "door-to-tPA" time (tPA, or tissue plasminogen activator, is the clot-busting drug considered the gold standard for treatment) and a 16-minute improvement in the "door-to-groin puncture" time for patients needing neuro-intervention.
Blados said that since the pilot program, the direct-to-CT process has been further improved. EMS crews can start two intravenous lines in each arm to make it easier for treatment to begin when the patient reaches the hospital. They do a medical history for the physician and can also do an electrocardiogram to make sure there is no cardiac involvement.
"It feels good to the paramedics because we know we are playing a key part in starting the ball rolling and a positive outcome," Blados said.
Canyon County Paramedics initiated a game-changing shift in the transfer process in spring 2016, when a stroke patient was brought to the Nampa emergency department. Paramedics waited for lab results to determine whether the patient would need to be transported to St. Luke's Boise for intervention treatment.
Moments later, when imaging confirmed that treatment was needed, they transported the patient to Boise, saving valuable minutes that would have been used in a handoff to another crew. That process is now followed in Payette County in partnership with St. Luke's Fruitland.
"At St. Luke's Nampa, we will stay and wait on scene and be the one to transfer them to another hospital," Blados said. "We know the patient, we know the family and their medical history. We will see them through the entire process."
EMS providers also have been committed to getting patient information to providers before patients reach the hospital. Those details, about patients' medical history, medications they take and other vital information, help providers know how to treat patients when they arrive.
"We get to the emergency department and the physician will meet us at the back door," Blados said. "We will do a quick evaluation, bypass the ED and go right to radiology to get a CT scan. As soon as they see the CT scan, they will determine what to do next."
The diagnostic side of stroke care is complicated because of the many factors that can influence the type of treatment a patient needs, according to Dr. Jim Torres, St. Luke's Health System stroke medical director.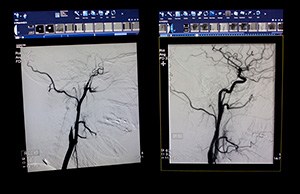 Making seconds count inside the hospital
Teresa Hall, the senior director of nursing and patient care at St. Luke's emergency departments in Nampa and Fruitland, said the care team in the emergency departments is highly motivated to provide the fastest treatment possible. The team understands that during a stroke, a patient loses 2 million brain cells each minute. The saying, "time is brain," reminds them that their fast action will save valuable brain function.
"As soon as we get notified by the paramedics of a possible stroke patient, we call medical imaging and make sure the scanner is ready," Hall said. "Upon arrival, the doctor, nurse and registration staff walk with the patient to the scanner."
When diagnostic tests show that a patient requires intervention in Boise, the patient is transported quickly for that life-saving treatment. A nurse from the intervention suite walks with the patient and the EMS crew to learn the patient's status and history. That step saves time once the patient reaches the intervention suite and allows the team to begin the procedure sooner.
Catheter-based interventions for ischemic stroke began to be studied in 1994, the same year Dr. Bell finished his fellowship training in interventional and diagnostic neuroradiology. Throughout his career, he has watched the evolution of stroke treatment.
"I went into a field that had no treatments whatsoever, and I have seen it evolve from nothing to what we have today," Dr. Bell said.
Stopping the stroke before it happens
If it's true that great stroke care can start well in advance of hospital stroke care, it's also true that it can start well in advance of a full-blown stroke.
Mini-strokes – often signaled by a fleeting feeling of weakness on one side of the body – often presage strokes, but many people decide to put off care. People who have a mini-stroke, or transient ischemic attack (TIA), have a 10 percent chance of having a full-blown stroke within 90 days.
St. Luke's Boise and St. Luke's Meridian have the only TIA observation unit in the valley. This resource helps identify a mini-stroke when a patient comes to the emergency department and can help keep someone from returning with a full-blown stroke; utilization of the TIA observation unit decreased TIA to stroke readmission rates to zero in 2016. Once a mini-stroke is identified, providers can determine and then treat the cause.
For Dr. Torres, the greatest advantage when it comes to effective stroke treatment lies in the recognition of the stroke itself. Without fast recognition, seconds tick away and the benefits of sophisticated processes and technology are lost.
"It just always goes back to people getting in as quick as possible," Dr. Torres said. "Then we evaluate them quickly and determine what they need."