Integrative Medicine Meets Unique, Complex Needs of Cancer Patients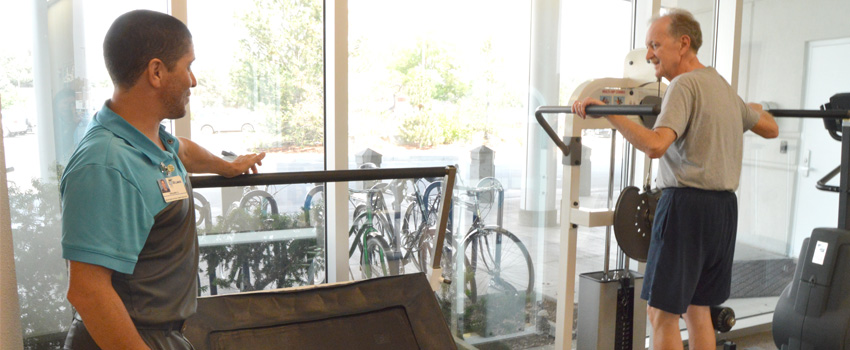 Marion Porter gets instruction from St. Luke's MSTI exercise physiologist Ben Stein during a recent strength and conditioning session.
By Chereen Langrill, News and Community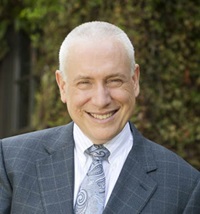 As a physician, cancer survivor and spouse of a cancer patient, I know that our approach to cancer at St. Luke's Mountain States Tumor Institute (MSTI) is spot on, treating mind, body and soul.
Yes, we can offer surgery, chemotherapy and radiation therapy, but patients often need more. MSTI offers pastoral care, social services, psychiatric care, nutrition services and integrative therapies that help patients deal with the ravages of the disease and the treatment.
Here is St. Luke's Communications Coordinator Chereen Langrill reporting on MSTI's integrative medicine and how our approach can speed – and ease – the road to recovery.
- David C. Pate, M.D., J.D.
---
Marion Porter's cancer treatment was brutal.
To fight off throat cancer, he endured 35 radiation sessions, each 15 minutes in length, along with chemotherapy. His oncologist told him it was the toughest treatment available. It helped put an end to his throat cancer, but it destroyed his body in the process.
The radiation caused third-degree burns on his neck. At one point, he was on a feeding tube and lost 30 pounds.
Porter, who worked in St. Luke's Integrated Health Technologies department until he retired in May, no longer had the energy to do the activities he loved, such as riding his bike on the Greenbelt or walking his dog.
"It beat me up pretty good," he said.
Marion Porter's experience is a powerful example of the arduous journey cancer patients face. For many, treatment is not a linear journey that moves from diagnosis to treatment and recovery. Along the road, there can be detours caused by the symptoms patients experience because of life-saving chemotherapy and radiation treatment, symptoms that can include insomnia, chronic pain, anxiety and a loss of muscular strength.


But patients don't have to merely endure those symptoms. St. Luke's Mountain States Tumor Institute offers an integrative medicine program as a component of supportive oncology services for patients in Boise, Meridian, Nampa, Fruitland and Twin Falls.
Integrative medicine services such as acupuncture, massage therapy and strength and conditioning for adults can have a powerful impact on a cancer patient's well-being, allowing them to cut back on pain medication and experience a decrease in symptoms, according to Sandra Wood, integrative medicine program manager. Regardless of the diagnosis, such approaches can mean improvement to patients' quality of life.
Porter heard about the strength and conditioning program from a former co-worker. Although his cancer treatment ended two years ago, he was still fighting fatigue and was frustrated by his lack of energy.
"I would go home from work and need to take a nap. I was just out of steam," he said.
Porter began the program in early June and quickly noticed a difference. He and his wife traveled to Oregon for a daughter's college graduation a couple weeks after treatment began, and the trip included a day on the coast. He enjoyed a day of sight-seeing and walking without needing to rest.
"The amount of energy and the things we did that day, I could not have done two weeks before," Porter said. "Those three sessions doubled my energy."
Porter's cancer is gone, and he plans to put the extra energy to good use in September, when he will travel to England for two weeks. It's a trip that would have been unthinkable a few months ago.
"That wouldn't have even been on my radar," Porter said. "There's no doubt that this program has made a huge difference."
St. Luke's MSTI exercise physiologist Ben Stein said it is common for patients to overlook – or not even be aware of – the strength and conditioning service available through Integrative Medicine. The 12-week program is free, but people don't often think of it right away because they are overwhelmed by the information they are receiving regarding their diagnosis and treatment.
"Hearing that you have cancer is terrifying," Stein said. "That's all you hear."
Patients are overwhelmed by treatment schedules, work, family and other personal obligations. But exercise is a game-changer for most patients who give it a chance, boosting the immune system, decreasing fatigue and releasing endorphins, which promote a feeling of well-being. Participants exercise in a sanitized environment, under the guidance of specialists in fitness for cancer patients.
Awareness is increasing about the program, as is the program itself.
When Stein joined St. Luke's MSTI five years ago, strength and conditioning was offered for two hours one day each week. Today, it is offered five days each week for a total of 13 hours. Stein estimates he has seen about 1,000 patients in the past five years.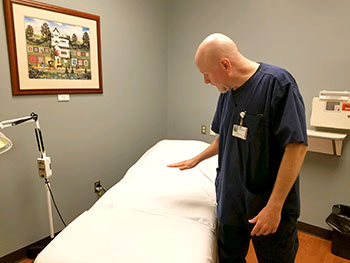 St. Luke's MSTI licensed acupuncturist Alan Shaw conducts acupuncture sessions on a hydraulic massage table that can lift the patient's head or feet for increased comfort.
Licensed acupuncturist Alan Shaw started working at St. Luke's MSTI in 2010. At that time, there was enough patient demand for him to work 16 hours each week and he was the only acupuncturist employed by the health system. There are now four acupuncturists working at four sites, and a waiting list for patients seeking the service.
"I'm seeing more and more patients who have heard about it earlier in their treatment," Shaw said.
The increase in staff – and patients – demonstrates how the program's value is gaining understanding within the MSTI community. Patients learn about the program through their physicians, social workers, chemotherapy nurses or from other MSTI patients in waiting rooms.
There is a long list of complications that can be treated through acupuncture, but some of the most common include pain, nausea, peripheral neuropathy (nerve damage), hot flashes and insomnia. Acupuncture can begin while the patient is going through cancer treatment and continue for up to a year. Like strength and conditioning, this is a highly-individualized approach to patient care. Each individual's unique needs are considered when determining next steps.
"We don't treat the cancer itself," Shaw said. "We support them in getting through cancer."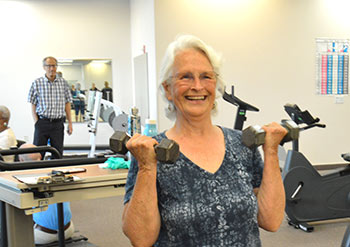 The cost is typically about 20 percent less than what it would be outside of St. Luke's, and there are also scholarships available for people who need financial assistance. Each month, between $2,500 and $4,000 is awarded in scholarships, eliminating barriers for patients who want to access the program's services.
And there's a side benefit to the services as well: An acupuncture or massage session takes between 45 minutes and an hour and half, allowing providers more time with patients.
"We can find out more things that are happening with them, and then the integrative medicine practitioner can refer on to a social worker or someone else who can help," Wood said.
The diversity of services offered through Integrative Medicine represents just one component under the umbrella of Supportive Oncology at MSTI. The overall program aims to ensure all patient needs are met, be it spiritual care, financial advocacy, nutritional support or other forms of care. For MSTI Administrator Mark Parkinson, the wraparound suite of services illustrates what it means for treatment to be patient-centered.
"MSTI is unique in that respect, to have this level of care."