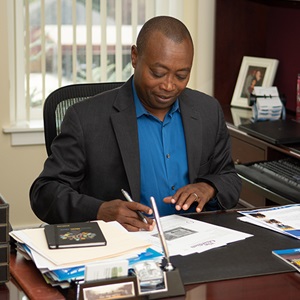 "There is no reason we should not be able to meet the mental health needs of the children in our community. We have the capacity and resources to ensure that every child lives to her/his full potential."
The Children's Home Society is working to make that dream a reality with support from many organizations, including St. Luke's.
The Children's Home Society, which operates the Warm Springs Counseling Center, provides an array of mental, emotional and behavioral health services, with its mission to "improve the lives of children in the community." The organization was one of nearly 100 nonprofit organizations that recently received Community Health Improvement Fund (CHIF) grants from St. Luke's.
As part of its community benefit strategy as a not-for-profit health system, St. Luke's invested approximately $650,000 in CHIF grants in this most recent grant cycle to nonprofit organizations that are addressing significant health issues identified in the 2019 Community Needs Assessments and social determinants, or influencers, of health across the greater Treasure Valley. An additional $290,000-plus will be invested in the Magic Valley area.
The grants are helping nonprofit organizations continue to serve vulnerable populations, especially during this time of heightened public health challenges related to COVID-19.
"It is a humbling opportunity to invest in large and small nonprofits doing extraordinary work at the ground level," said Theresa McLeod, St. Luke's senior director of the Community Engagement department, which administers the CHIF grants.
The Children's Home Society will use the grant to operate its community support program, which provides mental, emotional and behavioral health care for at-risk children.
"Through this program, we are able to reach out to those who cannot afford it, or families and children who are really in dire need of mental health care and have difficulty accessing the services," Sadiki said. "We can't express how grateful we are to St. Luke's Health System for the grant. This is incredible support."
The Children's Home Society serves the majority of the Treasure Valley, from Caldwell to Mountain Home. Sadiki and his staff see the number rising of children in need of mental health counseling. Last year, the Children's Home Society provided mental health counseling to 3,400 kids. The year before, the organization supported 2,796.
The organization is now providing on-site counseling services to students at Whitney Elementary, a community school in the Boise School District.
"The needs are growing significantly," Sadiki said. "We need to hire new health-care providers to be able to go into the schools to provide services there."
St. Luke's and the Children's Home Society have a long-established partnership, with both organizations tracing their Idaho roots to the early 1900s. The Children's Home Society has received CHIF grants for several years, using them to provide thousands of counseling sessions to children.
"This grant has a very huge catalytic effect," Sadiki said. "The benefit of this grant helps us to continue to strengthen our partnerships with other agencies, such as the Women's and Children's Alliance. Within that, it really does create a platform where we can cultivate group partnerships with other health-care providers in the community."
Applying for CHIF grants
St. Luke's accepts CHIF grant applications each year in August and September. Grants are often awarded during the following January. For the Twin Falls area, St. Luke's Magic Valley accepts applications and awards grants two times per year.
Priority is given to organizations that address the significant health issues identified in St. Luke's Community Health Needs Assessments. These issues include obesity, diabetes, mental health, suicide, access to affordable health insurance and more.
Grant proposals are reviewed by St. Luke's leaders, medical directors, public health experts and volunteers from St. Luke's Community Boards. Recipients submit activation reports highlighting how grants were used throughout the year.
List of 2020 CHIF recipients from Mountain Home to McCall
Ada County Highway District
Ada County Medical Society Foundation
Alzheimer's Association, Greater Idaho Chapter
American Cancer Society
American Heart Association
American Lung Association in Idaho
Angel Wings Network Inc.
Assistance League of Boise
Autism Society Treasure Valley
Because Kids Grieve
Big Brothers Big Sisters of Southwest Idaho
Boise Bicycle Project
Boise Public Schools Education Foundation
Boise Rescue Mission Ministries
Boise Urban Garden School
Boys & Girls Club of Nampa
Boys & Girls Clubs of Ada County
Camp Rainbow Gold
CATCH
Children's Home Society of Idaho
City of Boise Parks and Recreation
City of Caldwell
City of Cascade
Comprehensive Cancer Alliance for Idaho
Create Common Good
Dance Marathon at Boise State University
Destination Caldwell
Donnelly Fire-EMS Members Association
Elderly Opportunity Agency
Epilepsy Foundation of Idaho
Expedition Inspiration Fund for Breast Cancer Research
FA Club
Faces of Hope Foundation
Family Advocates
Genesis Community Health
Giraffe Laugh Inc.
Girl Scouts of Silver Sage Council
Girls on the Run Idaho Inc.
Good News Food Pantry
Horizon's Lifestyle and Education Management team
Idaho Academy of Family Physicians
Idaho Caregiver Alliance
Idaho Children's Trust Fund
Idaho Diabetes Youth Programs
Idaho Farmers Market Association
Idaho Hemophilia Foundation
Idaho Hunger Relief Task Force
Idaho Immunization Coalition
Idaho Walk Bike Alliance
Idaho Youth Ranch
Idaho2Fly
Idaho State University Foundation
Jannus Inc.
Jayden Deluca Foundation
Jesse Tree
Learning Lab
Lee Pesky Learning Center
Leukemia & Lymphoma Society
Life's Kitchen
Marie Blanchard Friendship Clinic
Marsing School District
Mountain Home High School
Mountain Home Parks & Recreation
Mountain Home School District
Muscular Dystrophy Association
Nampa Housing Authority
Nampa Salvation Army
Nampa Schools Foundation
Nampa School District
National Hemophilia Foundation
National MS Society
Pancreatic Cancer Action Network
Parma Area Senior Citizens
Reel Recovery
River Discovery
Ronald McDonald House Charities of Idaho
Salmon River Senior Citizens
Sleep in Heavenly Peace
Special Olympics Idaho
St. Michael's Cathedral
Supportive Housing & Innovative Partnerships
Surviving Hearts Cancer Support Group
Susan G. Komen Idaho Montana
Terry Reilly Health Services
The Idaho Foodbank
The Mentoring Network Inc.
The Speedy Foundation
Treasure Valley Believe in a Cure
Treasure Valley Children's Relief Nursery
Treasure Valley Down Syndrome Association
Treasure Valley Food Coalition
United Ostomy Association of America
Valley Regional Transit
Women's and Children's Alliance
Weiser Senior Center
Zoo Boise