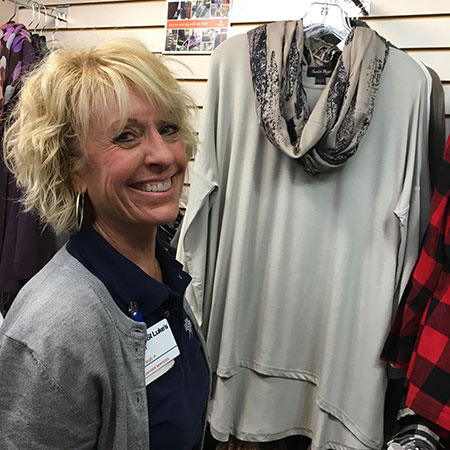 For 17 years, Suzi Pipkin has found a home away from home at the St. Luke's Boise hospital gift shop.
She started volunteering when her daughter left for college.
"I knew that I needed to be around people," said Pipkin, who helps purchase items, arrange displays and label clothing in the brightly lit first-floor store.
"I found that working at the gift shop was like a sandbox to play in."
The gift shop served another purpose when Pipkin moved her mom, Gertrude Zurcher Obendorf, to Boise from the family farm in Parma.
"I chose to bring mom to St. Luke's with me because she loved to watch people. She'd sit in the lobby in a chair by the corner where she could see me in the gift shop," she said. "People would stop by and say 'hi.'"
After six months, Pipkin realized that she needed help caring for her mom.
"A friend at the gym told me about Friends in Action. I did not know what respite care was," she said.
Friends in Action, now known as Legacy Corps, helps family caregivers reduce stress, solve problems, build skills and find assistance. Legacy Corps also is a grant recipient of the St. Luke's Community Health Improvement Fund (CHIF), a program that provides financial support to organizations and groups working to improve the health of people in this region. The deadline is Sept. 30 for this year's CHIF applications.
Pipkin was delighted when a Legacy Corps volunteer started coming to her home twice a week.
"It was awesome," she said. "I could go to the gift shop, decorate the shelves and work at the cash register. It was social for me. I knew she was safe and I could continue doing this and never miss a beat."
So far this year, Legacy Corps volunteers have provided more than 4,000 hours of respite to family caregivers like Pipkin. Melissa Radloff said that volunteers give caregivers "peace of mind" to care for themselves and pursue balanced lives -- from participating in leisure interests to attending their own medical appointments or having coffee with friends.
With support from CHIF and other local contributors, Legacy Corps has been able to "sustain a unique, volunteer-powered caregiver support model," Radloff said. The program provides extensive training for volunteers as well as partial reimbursement for their expenses.
Thanks to her experience with Legacy Corps, Pipkin has become a resource for other St. Luke's volunteers.
"She can spot a family caregiver a mile away and is sure to pass along information about the Legacy Corps program that was such a great support for her," said Radloff.
Learn more about how to volunteer with the Legacy Corps or contact Melissa Radloff via email.