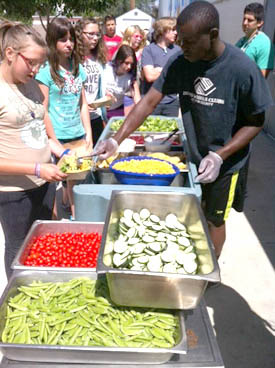 Grant recipients of the 2016 St. Luke's Community Health Improvement Fund include Boys & Girls Club of Ada County, Nampa, and Western Treasure Valley. Each location was awarded grant money to support the Triple Play program
Seventy-four local non-profit organizations have been selected to receive St. Luke's community health grants.
The 2015-2016 grants totaling more than $400,000 were awarded through the St. Luke's Community Health Improvement Fund (CHIF), a longstanding community benefit program that provides financial support for community health improvement activities.
"St. Luke's has long been committed to improving the health of the communities we serve," said Chris Roth, Senior Vice President & COO of St. Luke's Health System. "We are happy to partner with and support these organizations that align with our mission."
Local organizations that received 2015-2016 CHIF grants include:
Ada County Medical Society Foundation – High school physicals
American Cancer Society – Making Strides Against Breast Cancer and nine Relay for Life events
American Heart Association (Idaho) – Healthy Kids, Healthy Families, Healthy Communities
American Lung Association (Idaho) – Community Lung Health Partnership
Assistance League of Boise – Baby Bundles
Big Brothers Big Sisters of Southwest Idaho – Mentoring Matters
Blaine County Senior Council – The Connection Club
Boise Art Museum – Annual gala
Boise Parks & Recreation – Idaho Youth Adaptive Sports Camp
Boise Public Schools Foundation – Lifetime Movers
Boise Rescue Mission – Mental health program
Boise State University – Children's Miracle Network dance marathon
Boise Urban Garden School – Youth programming
Boys & Girls Clubs of Ada County – Triple Play
Boys & Girls Club of Nampa – Triple Play
Boys & Girls Club of Western Treasure Valley – Triple Play
Camp Rainbow Gold – Share Your Heart Ball
Camp River Run – Three quarterly day camps
Cancer Connection Idaho – Gentle Movement
Canyon County Community Clinic – Where Health and Wellness Meet
Cascade Food Pantry – Completion of Pride of the Pantry Plots
Casting for Recovery – Southern Idaho program
Children's Home Society – Community Support Program and "World Tour" gala
Create Common Good – Healthy Feeding Program
Cystic Fibrosis Foundation – Boise Great Strides
Downtown Boise Association – Kids Ride at Twilight Criterium
Expedition Inspiration – Be Inspired Dinner
Family Advocates – Baby Steps Prenatal Education
Friends in Action – 5th Annual Caregiver Conference & Legacy Corps Caregiver Support
Friendship Clinic – Health care services
Genesis World Mission – Garden City clinic operations
Girl Scouts of the Silver Sage – Outdoor Immersion Program
Girls on the Run Idaho – Spring program
Idaho Children's Trust Fund – Initiative to Reduce Child Sex Abuse
Idaho Diabetes Youth Program (Camp Hodia) – Diabetes youth programs
Idaho Food Bank – School Pantry
Idaho Immunization Coalition – Immunization Summit 2016
Idaho Medical Association – Annual meeting
Idaho State University – Complex Registry and ISU Counseling Services
Idaho Voices for Children – Children's Champion Luncheon
Idaho Walk Bike – Idaho Walk Bike Summit
Idaho Women's Charitable Foundation – 2016 Fall Symposium
Jayden De Luca Foundation – Masquerade Ball
Junior Achievement of Idaho – JA in a Day Initiative
Learning Lab – Healthy Families Literacy Program & Lunch for Literacy
Leukemia & Lymphoma Society – Light the Night Walk
March of Dimes Foundation – Campaign to End Premature Birth
Mercy Housing Northwest-Idaho – Resident Service Program
Nampa Civic Center – Senior Fair
Nampa Family Justice Center of Idaho – Abuse in Later Life Program
National Alliance on Mental Illness (Boise chapter) – In Our Own Voice
National Hemophilia Association – Idaho Hemophilia Walk and Carnival
National Multiple Sclerosis Society – Walk MS: Southern Idaho
Northwest Nazarene University – Roger Curran X-Country Race
One Stone – Project Good Prototype
Pancreatic Cancer Action Network – Purple Stride Boise 2016
Reel Recovery – 2016 Reel Recovery Retreat
River Discovery – 2016 Retreat
Ronald McDonald House Charities of Idaho – Share a Night
Serve Idaho – 2016 Serve Idaho Conference
Snake River Stampede – Stampede for the Cure
Special Olympics Idaho – SO Fit Program
St. Luke's McCall Foundation and Salmon River Seniors – Salmon River Transit/Connecting U
Surviving Hearts Cancer Support Group – An Evening at the Willows Creekside
Susan G. Komen (Idaho-Montana) – Boise Race for the Cure
Terry Reilly Health Services – SANE Solutions and Annual gala
Treasure Valley Children's Relief Nursery – Resources for families in need
Treasure Valley Family YMCA – Multiple programs
Treasure Valley Food Coalition – Expand mobile market service area
Valley Regional Transit/ACHD Commuteride – May in Motion
Vandal Scholarship Fund – Gala
Weiser Memorial Hospital Foundation – Festival of Trees
West Ada Education Foundation – Fitness Gram
Women's and Children's Alliance – SueB Memorial 5k Walk/Run and financial literacy tools
The CHIF grant criteria gives special consideration to proposals that address one or more of the priorities identified in the Community Health Needs Assessment, a data-based report produced by St. Luke's in collaboration with community partners.
Applications for the 2016-2017 fiscal year will be available August 1. Please view the application guidelines.