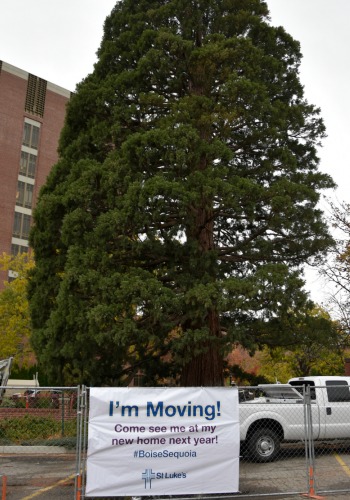 Moving day is still months down the road, but work began this week to prepare a 100-year-old giant sequoia for its new home.
St. Luke's is expanding its downtown Boise campus, and one block of Jefferson Street will be closed in order to expand the horizontal footprint of the existing hospital. Some of the trees in that area, including the sequoia, will be relocated.
In order to ensure the tree's health during this process, St. Luke's is working with a nationally-known tree moving company, Environmental Design Inc. This week, crews are preparing the tree by pruning its roots and installing a barrier to temporarily prevent further growth. This will allow the tree to heal during the more dormant winter months.
St. Luke's is working with the Boise City arborist to determine a location in Fort Boise Park that is best-suited for the tree. When the time comes to move the tree in the spring, it will slowly be lifted up out of its current spot, and then transported to its new location. The cost for St. Luke's to move the tree is approximately $300,000.
"This tree has been a part of our community for 100 years, and we want it to continue to be enjoyed by future generations," said St. Luke's Boise Administrator Dave McFadyen. "We are honored to be part of this tree's legacy, and by donating it to the city of Boise we can be sure it will continue to be a treasured part of our community."
The giant sequoia is 98 feet tall, with a base circumference of 20 feet, 6 inches. It grew from a tiny cutting of a sequoia presented as a gift to Dr. Fred Pittenger by the conservationist Emil Grandjean, one of Idaho's first foresters. Around 1912, the cutting was planted next to Dr. Pittenger's home.
St. Luke's will be periodically posting updates from and about the sequoia. Follow along and use the hashtag on Twitter and Instagram, #BoiseSequoia.