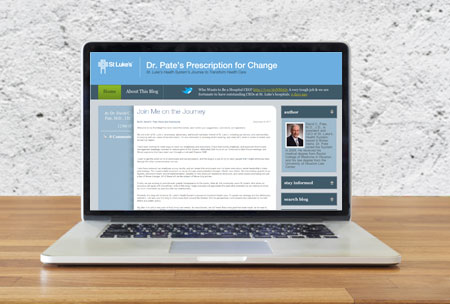 On Dec. 6, 2011, in my first blog post exactly five years ago, I said this about my goals and intentions:
"Primarily, this blog will chronicle St. Luke's Health System's journey to transform health care. I'll explain our strategy and the philosophy behind it. I will also use this blog to share news from around the System. And for perspective, I will occasionally comment on current affairs and public policy.
My plan is to add a new post at least every two weeks."
I would say that we have done exactly that.
I also said that the site "is for all St. Luke's employees, physicians and board members; friends of St. Luke's, including our donors; and communities."
What has surprised me is how much broader the appeal has been. We know it is read locally at all levels, but the readership has far surpassed what we'd thought it would be.
I think the reason it may have struck a nerve nationally, and even internationally, is that people are seeking help understanding the public health and policy issues of our day – and there have been plenty of them – in a balanced way and in plain language. It has allowed people to be part of a conversation, and free to make up their own minds with a clearer understanding of the issues.
Another surprise has been the benefit we have seen as the result of that broader interest – folks who have joined the St. Luke's team from across the country informed by what they've read on the blog, an enhanced national reputation that we have learned about when folks have indicated at national conferences and meetings that they are readers, multiple valuable connections made through the posts and content shared across other social platforms, including LinkedIn.
The blog has been a powerful recruitment tool, as candidates have learned about our organization and what we are doing and been attracted to the vision of our organization.
We have used the blog to break news, to reach folks rapidly and to set the record straight on occasion. We know policy-makers, heads of other health systems and associations, representatives of regulatory agencies and others have paid very close attention to the blog at times over the past five years. It's played a crucial role in our communications suite of tools, working in alignment with our internal Weekly, our community-oriented News blog and our other social platforms.
Executives at other hospitals and health systems have appreciated the management-oriented posts, staff members have been inspired by the storytelling and media representatives have picked up news and story ideas from the blog or have requested interviews as the result of what they've read.
We know it's followed by journalists locally and nationally and among influential bloggers and thinkers in the social space. The blog lets us tell our story directly and credibly, and reaches about 2,000 people each month.
It's been a two-way dialogue. I have particularly enjoyed the comments and questions readers have submitted. I know that submitting comments became more difficult when we changed platforms; I welcome your questions and comments and invite you to submit them, even though the platform requires a little getting used to.
The blog has been a great opportunity for interaction, and as the pace picks up in the coming year, I will have lots more to share and to learn from readers. I also think that there will be no shortage of national health policy and developments to comment on.
I can't believe it has been five years, and while lots is changing in our environment of health care, this is one thing I'm not going to change. I plan to continue with the blog. I think we have a winning recipe and don't plan to change much about the content, posting schedule or other elements. I hope you will continue to find value in the material and join in on the discussions.
Thanks to all for reading and engaging in the conversation. And one more thing: I cannot go without recognizing Roya Camp, my blog editor and amazing rhetorician (Did you know there was such a thing?). She chases down stories for me, maintains the blog and makes sure I don't butcher the King's English. Thanks, Roya!