We are so proud of Kristin Armstrong, manager of community health for St. Luke's Health System's West Region.
The St. Luke's team is celebrating Kristin's amazing performance at the 2016 Olympic Games in Rio, where she won her third consecutive gold medal in the women's cycling time trial. She joins Bonnie Blair as the only American women to win three gold medals in the same event in Olympic history.
Kristin's perseverance is inspiring, and reminds us all how we can always aim higher.
When it comes to improving health care, here are takeaway ideas I think we can draw from her example: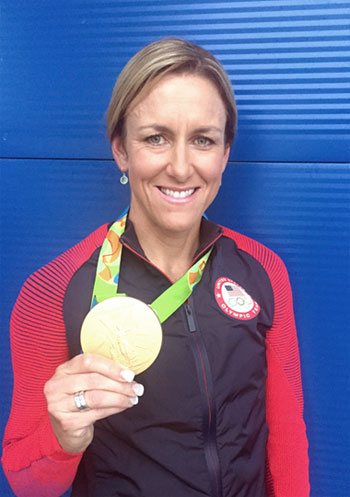 Set aggressive goals, and be relentlessly focused on achieving them.
Kristin has razor-sharp focus when it comes to setting and achieving goals. For Kristin, the goal was to be the three-time world champion in women's cycling.
In health care, the goal is to achieve the highest standards in quality and safety. Sometimes the road can be long and difficult. But with dogged determination and a desire for constant, incremental improvements in performance, greatness can be achieved.
Use the competition to make you better.
Kristin is well aware of her competitors, and she knows what it will take to beat them.
In health care, healthy competition can help drive us to ever higher levels of performance. It can help show us the opportunity for improvement and encourage us to always strive for faster, greater results in our own performance.
Don't ever become complacent.
Kristin certainly could have rested on her Olympic laurels, but she never settles for what she has already achieved. She always wants to improve, to be better and to achieve new heights.
Complacency is health care's enemy. We have achieved much, but we can never settle. There is always more to do to improve patient care.
Measure and benchmark your performance.
Kristin measures her performances. She tracks her ride times and she knows objectively whether her performance is a winning one. Kristin benchmarks her performance, not just against local competition, but against the world.
We know that in the absence of measurement, we tend to assume our performance is great. We know that what gets measured, gets improved. In health care, we use national and worldwide benchmarks of performance to drive continual improvement.
Be bold, and don't worry about detractors.
Though Kristin is beloved by her St. Luke's family, neighbors and friends in Idaho and many across America, like all elite athletes, she has her share of detractors. When critics questioned her ability to win gold again, Kristin turned perceived disadvantages into advantages: She was more experienced. She knew how to train and what to expect. With that experience came wisdom.
Transforming health care is a bold vision. Equally challenging is becoming a national leader in quality and safety, and lowering costs. Some say it can't be done. But to transform health care, we must stay focused on each and every patient, working to ensure the highest quality, safest, most patient-centered care.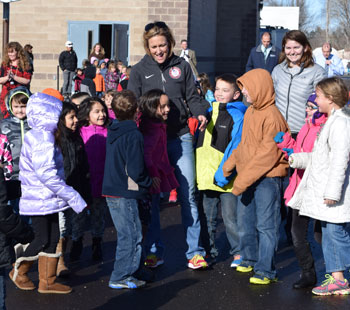 Give back to your sport and your community.
Kristin is an amazing person. She always takes time to sign autographs, to inspire and encourage kids and to give back. It was in that spirit that she joined St. Luke's, to help lead our efforts in community health, because she wants kids to be healthy and to get the most out of life.
St. Luke's is inspired by Kristin's generosity in sharing her time and talents. We, too, are focused on community health and giving back to our communities, to whom we owe so much for their support and the ultimate honor of being able to provide their health care services.
We also make efforts to support those who wish to enter into health care. Many of our employees are mentors, volunteer teachers and role models for young, aspiring future healthcare professionals. We also try to share our learnings with the rest of the country's hospitals and healthcare systems, through my blog, participation at conferences and hosted site visits here in Idaho.
Congratulations, Kristin, on your amazing accomplishments. You have inspired so many people, especially young girls and women. You are a stellar role model who teaches all of us how to be competitive, and gracious and humble at the same time. Thanks for all that you do for St. Luke's and the people we are so proud to serve.