Fruitland's Advanced Services Attract People from throughout Northwest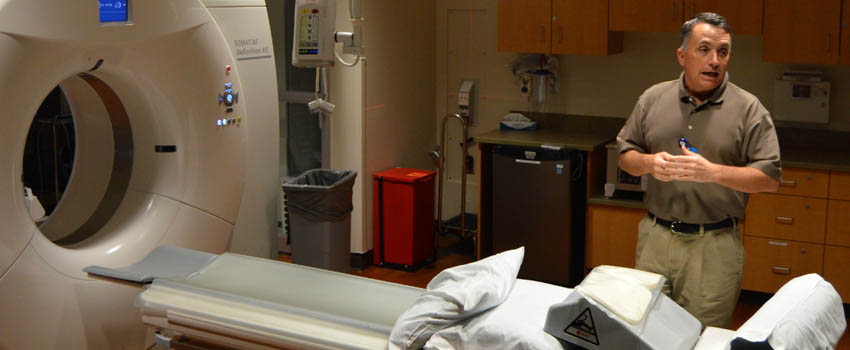 Imaging services at St. Luke's Fruitland have been in high demand because of the highly-advanced equipment at the facility.
By Chereen Langrill, News and Community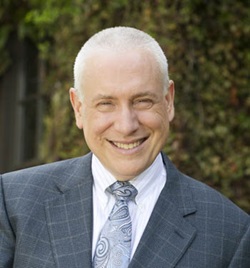 ---
St. Luke's Health System has made a significant commitment to improving the health of people in the region we serve.
Much of our region is rural in nature and many areas have been underserved, but we are reaching out and introducing state-of-the-art, high tech services in those communities, often in collaboration with community partners and highly involved board members. Fruitland, Idaho, is a case in point.
My guest blogger today, St. Luke's Health System Communications Coordinator Chereen Langrill, takes a look at the tremendous difference St. Luke's services make in the lives of people in and around Fruitland.
- David C. Pate, M.D., J.D.
---
Big-city medicine in a rural setting.
That's how visitors routinely describe the high-tech, advanced services available at St. Luke's Fruitland, and those services are a significant reason the facility's reach extends far beyond the town itself.
The Fruitland Medical Plaza opened in May 2014 and the full-service emergency department opened in August of that same year.
Almost immediately, it was clear the facility would serve a valuable need in the community. In its first year, Fruitland's emergency department served more than 12,000 people and was operating at more than 20 percent higher-than-projected volumes, said Sean Hackett, Fruitland's operations director.
The higher volumes are the product of both location and services.
"We get a lot of patients from out of state because we have imaging equipment that is state of the art," Hackett said.
Like the emergency department, imaging services in Fruitland are also in high demand – 300 percent above expected volume for the first year.
Fruitland's imaging services include nuclear medicine, which allows for fast, highly precise results. A nuclear scan helps cardiology patients by taking images that show how the heart pumps blood through the body and can also be used in oncology to evaluate cancer treatment.
Fruitland is the third St. Luke's location to offer nuclear medicine (the others are Meridian and Boise), and the service was operating at maximum capacity within weeks of its implementation. A technologist must be present when the equipment is used, and the service is currently available twice each week. Hackett hopes to increase to three days a week in the future.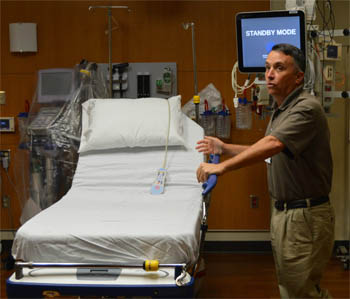 Advanced equipment in Fruitland's emergency department enables the medical team to quickly evaluate a cardiac case without having a cardiologist in the room. A trauma bay in the emergency department allows the care team to perform highly accurate evaluations without patients needing to move during the process. And while the testing is done in Fruitland, a cardiologist can view the results in Boise and consult with the team in Fruitland to determine next steps.
The facility's location is a game changer for people living in rural areas surrounding Fruitland. Without this option, people would have to travel to another city or even out of state to get the types of services available in this location.
St. Luke's Fruitland Community Board member Janet Komoto was already sold on the value of having comprehensive medical services closer to home. She received cancer treatment at St. Luke's Mountain States Tumor Institute in Fruitland and was grateful to have treatment that was just five minutes away.
When she learned about the radiation equipment Fruitland would receive, Komoto approached her sister, who works for Varian Medical Systems, the equipment's manufacturer. Komoto's sister told her the equipment was top of the line.
"Having the most sophisticated and latest radiation equipment in Fruitland is reassuring that St. Luke's wants only the best for their patients," Komoto said.
State representative Judy Boyle, who serves on the community board with Komoto, also received treatment at St. Luke's MSTI in Fruitland. Having care closer to Boyle's home in Midvale allowed her to focus on healing and treatment, rather than a long drive to an unfamiliar community.
Boyle said the services available in Fruitland are highly valued. Driving to Boise can be intimidating for people who live in rural settings, Boyle said, particularly for people who are elderly or ill.
"I can't even begin to tell you how much that means to people to drive only an hour," Boyle said. "It is such a fantastic resource for rural Idaho to have that close."
Also in St. Luke's Fruitland's first year:
A mobile magnetic resonance imaging (MRI) machine will soon be replaced with permanent imaging equipment because of high demand.
Seventeen subspecialists have traveled to the community to treat people. Pediatric subspecialties have been highly sought after, attracting people from as far away as Nevada.
The facility's laboratory enables people to get quicker test results because samples don't need to be sent away. The regional lab serves Oregon and Washington in addition to communities throughout Idaho.
Slated to begin in 2016, a second phase of development includes the Respite House, which will give people a comfortable place to stay while receiving treatment at St. Luke's MSTI.