St. Luke's is always looking at how technology can help us deliver on our aims of better health, better care, and lower costs.
Telehealth is one such technology that is making our care better, safer, more effective, and less costly, and helping us to connect with and serve our communities even better.
Here to provide you with an update on St. Luke's activities around telehealth is guest blogger Chereen Langrill, St. Luke's Health System communications coordinator.
Telehealth is offering exciting new opportunities to grow even deeper roots around St. Luke's mission to improve the health of people in our region.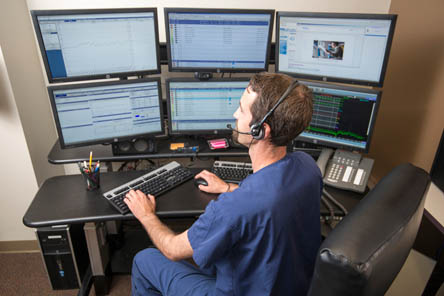 Telehealth involves two-way audio-visual encounters that connect providers and patients. This approach to care boosts monitoring in intensive care settings and adds another layer of support for patient care across a variety of settings, including rural areas such as Wood River.
The concept isn't new to St. Luke's, where an electronic intensive care unit program has been in place for a few years. That program was funded by a Health Care Innovation grant from the Centers for Medicare & Medicaid Services that ended June 30. The name eICU is a registered trademark of Philips Healthcare, and teleICU now takes its place within St. Luke's overall growing telehealth program.
Rapid growth and success
Telehealth at St. Luke's is moving forward under the direction of Krista Stadler, who joined St. Luke's in February 2015 to refine the program and provide the structure and strategy for future growth. Today the program's primary focus is on neurology and intensive care. Down the road, it could expand to include a multitude of services, such as behavioral health.
Telehealth's merit is already apparent across St. Luke's. In the past two quarters, teleICU has prevented 14 patient falls and five unintentional extubations, and intercepted or prevented 14 medication errors. Data collected by the teleICU team shows a 12.5 percent decrease in patient length of stay in our ICUs and a 45 percent decrease in ICU mortality.
Success stories continue to accumulate. Some recent examples:
Just a few hours after the teleneurology program launched in Wood River in April, a man who was having a stroke went to the emergency room for help. Thanks to the telehealth technology available that day, he left the hospital 48 hours later with very few physical deficits.
A teleICU nurse rounding by camera discovered a ventilated patient had scooted down in bed and was within 2 inches of being able to pull out her endotracheal tube. The nurse notified the respiratory therapist and stayed on camera until he came into the room to move the patient and boost her up in the bed.
A bedside nurse contacted the teleICU staff because her patient's electrocardiogram was not reading properly. She and the teleICU nurse were able to troubleshoot the issue together and determined that the patient was not properly connected to the electrodes. They made some adjustments to improve monitoring, and the teleICU nurse worked with the pharmacy to get dosing information on the patient's phenobarbital drip for the bedside nurse.
A teleICU nurse rounding by camera noticed a patient was out of bed and trying to climb back into the bed over the side rail. There was no bed alarm going off, so the teleICU nurse notified the bedside nurse, who then helped the patient get back to bed and turned the bed alarm on.
A level playing field
Patient-centered care means something different in a rural setting. How quickly can you access the type of care you need if it requires a specialist? What happens if you need to be transported to a larger facility?
"You can't have a neurologist at every site," said Dr. Jim Torres. "The only way to really handle this is telehealth. It levels the playing field."
St. Luke's has two neurologists in Wood River, and the unpredictable nature of medical emergencies makes it difficult to know when their services will be needed. Teleneurology enables Wood River to have 24/7 access to a board-certified neurologist through a Florida-based company called NeuroCall.
"We need a group like NeuroCall because we don't have enough neurologist resources here in Idaho," Stadler said. "We have a great neurology group at St. Luke's, but they are at capacity."
Idaho is on trend when it comes to neurologists and limited resources. According to the American Academy of Neurology, a national shortage of neurologists continues to increase each year, and the United States will reach a shortfall of 19 percent by 2025. The academy cited a study that revealed the demand for neurologists is growing faster than the supply; it is estimated that the U.S. will have 18,060 neurologists by 2025, when there will be the need for 21,440 neurologists.
On-demand access to a neurologist isn't always available in areas like Wood River, according to Dr. Torres. Each medical situation is unique and calls for a different type of specialist, and the benefit of teleneurology is that those resources are readily available, regardless of where the patient is located. In Wood River, this means a patient going to the emergency department won't have to wait for care if a neurologist isn't on site.
Three years ago, Dr. Torres led an effort for St. Luke's Treasure Valley to earn Primary Stroke Center certification from The Joint Commission. In order to achieve that certification, Dr. Torres, an emergency department physician, had to become a subject-matter expert in stroke. He examined studies and data to learn how the certification could serve as a process improvement tool to help St. Luke's provide even better care.
"Timing is critical, especially with stroke," Dr. Torres explained. "It is better medicine to have something like this in place."
During those critical moments, every decision has a consequence. Having fast access to a neurologist can help the team make the best decision from every possible angle. What is the best treatment for this particular person? Which approach will minimize complications? Does this person need to be transported to Boise, or can they get everything they need without changing locations?
The benefits of consulting with a neurologist on demand all come back to savings. It saves time by allowing the patient to get faster treatment. It can save lives and reduce the severity of disability. And it can save significant resources, including transport costs and rehabilitation expenses. Disability caused by stroke creates a spiral for the patient and their family, because it can impact their ability to work and earn money.
Transporting to another hospital can have a meaningful impact for many people, according to Dr. Torres. Air transport from Wood River to Boise can cost around $25,000.
"That can change your life. These guys can help with consult and help us decide whether or not people need to go," Dr. Torres explained.
Teleneurology can have a positive effect on the overall cost of care for each individual, because the consultation allows the medical team to make faster decisions about the most efficient and effective approach for treatment. Medical care alone for a stroke can cost $140,000.
When Stadler and Dr. Torres talk about the benefits of telehealth, they often say it is an ideal example of meeting the Triple Aim. It helps patients get the best care possible, leading to better outcomes. It reduces the cost of care by lowering hospital stays and readmissions. And it improves access for patients and allows physicians and hospitals to expand their reach.
Stadler wants program recognition to grow beyond the walls of St. Luke's, so that people in the community understand they can and will have this added level of care when they need it.
"The biggest thing is the awareness of telehealth, so that people know this is a real possibility," she said. "What people really care about is that their loved one can walk out of the hospital after they have an incident because they had access to the quality care they needed close to home."