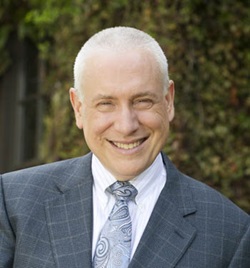 ---
St. Luke's Mountain States Tumor Institute (MSTI) has always been a leader in cancer care here in Idaho. St. Luke's MSTI in Magic Valley was the first site in the state to offer stereotactic body radiation therapy, and now that same technology is in place in Boise.
Patients with cancer who require radiation therapy in the past have gone through lengthy treatments that not only radiated the cancer, but oftentimes, healthy surrounding tissues, sometimes resulting in painful complications. This technology allows us to provide radiation therapy in briefer treatment sessions, fewer treatment sessions, and with less damage to surrounding healthy tissue.
St. Luke's is building the healthcare delivery system we all would want for ourselves, as it is likely one day we will need our own services. As a cancer survivor, I think about the risk of a recurrence or a new cancer. If I was an appropriate candidate for this type of radiation therapy, I would want my therapy at MSTI with this new technology. Here to tell you more about this is Chereen Langrill, St. Luke's communications coordinator.
- David C. Pate, M.D., J.D.
---
New technology is now in place at St. Luke's Mountain States Tumor Institute in Boise, and this month physicians began incorporating use of the new TrueBeam™ Sx linear accelerator into treatment plans for patients who will benefit from this extremely accurate therapy.
New treatment techniques, stereotactic radiosurgery (SRS) and stereotactic body radiation therapy (SBRT), will be available starting in early 2016.
"Though we have been doing a form of stereotactic cranial treatment for years at MSTI, this machine will significantly expand treatment options for many of our patients," said Dr. Stephen Smith, MSTI radiation oncologist.
The linear accelerator utilizes 3-D technology to pinpoint the exact location of a tumor. It has sub-millimeter accuracy, which can reduce the amount of healthy tissue that might be damaged during treatment, said Michael Parish, a medical physicist at St. Luke's MSTI in Boise. The machine can even take into account the movements of a tumor as a patient breathes.
Because of the machine's increased efficiency, the time spent in radiation therapy is greatly reduced, decreasing actual treatment time to as little as two minutes in some cases.
St. Luke's "is very driven toward procedures that have higher value, and this is a perfect example, in that we can give certain patients fewer treatments with better outcomes," Parish said.
St. Luke's broke ground on the $10 million project in December 2014.
St. Luke's MSTI Magic Valley has offered a similar service since 2011.
The decision to bring a linear accelerator to the Treasure Valley was based on the opportunity to help more people with the faster, more effective treatment.
"There has been a big change in radiation therapy in the last decade as machines have gotten more precise," Parish said.
The Boise location was selected because it offered an environment where support staff and equipment were already in place. Boise has seven radiation therapists scheduled on a daily basis and three physicists with clinical responsibilities, explained Doug Hughes, St. Luke's radiation oncology manager. People needing treatment in Boise also have options for nearby accommodations, such as the Bishop Foote Guest House where adult patients or family members can stay.
"As a benefit to the patient, all of the support staff and equipment are in one location and always available," Hughes said. "There is also the possibility to use the Bishop Foote Guest House if they need."
The linear accelerator is located in the lower level of St. Luke's Boise, below MSTI, in new space constructed to fit stringent safety regulations. The space that contains the machine – called a vault – is surrounded by 2.4 million pounds of concrete. A door weighing several thousand pounds provides further protection from the powerful radiation beams.
In addition to structural integrity, the machine also required several weeks of intensive testing that involved measuring the radiation beams to ensure absolute accuracy. Parish was responsible for the calibration to ensure patient safety and precision.
"We made thousands of measurements to commission the machine, and we double- and triple-check those," Parish said.
Routine quality assurance will be ongoing to ensure patient safety. Every plan is checked by a physicist to verify that the appropriate radiation is being delivered to the patient. Radiation therapists perform a series of tests in the morning before patient treatments begin to check safety features, dose output and system accuracy. A medical physicist performs more detailed tests on a monthly basis, and also will perform annual tests to check calibration and baseline values.
The SRS and SBRT treatments that are being added are not appropriate for every person who needs radiation therapy. Physicians will evaluate their patients to determine the best candidates, Parish said. Though brain, thoracic and liver tumors are areas where there is the most experience, clinical indications continue to expand and smaller, isolated tumor deposits may also become targets for this highly localized treatment, according to Dr. Smith.
When appropriate, the newer treatments can be a dramatic benefit. For example, someone with early-stage lung cancer might need 30 treatments for some forms of traditional radiation therapy. When using the linear accelerator, however, that same person might need just three treatments.
"We feel extremely fortunate to have this technology available for our patients and community," Dr. Smith said.