Under the steadfast guidance of Dr. Kevin Shea, Project Zero is moving the dial to reduce surgical site infection rates (SSIs) and has influenced numerous changes in safety and protocol. Project Zero, in partnership with the Joint Program, is being recognized for its impressive success as a recipient of the Qualis Health Award of Excellence in Healthcare Quality.
Project Zero has influenced and driven numerous changes involving surgeries, ranging from surgical attire initiatives to patient engagement programs. St. Luke's Perioperative Evaluation Clinic, developed in 2013, aims to optimize a patient's health before facing surgery. This includes addressing hypertension or unmanaged diabetes symptoms.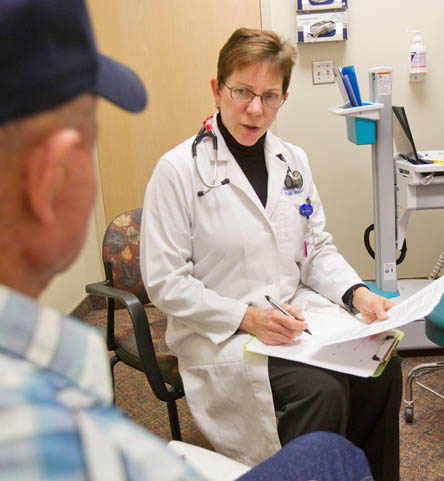 Since its inception in April 2011, Project Zero has continued to evolve and now includes a new system-wide initiative called Surge to Zero. Project Zero acts as an incubator for new ideas, and when those ideas develop further they roll out system-wide through Surge to Zero. Right now about 15 improvements are under way throughout the system, and they connect back to the work being done with Dr. Shea and his dedicated team.
"We want to make sure we are leading the healthcare field in developing actionable improvements," explains Mindy Jennings, a continuous improvement coach with Performance Excellence.
Thanks to new partnerships and numerous process improvements, orthopedic SSI rates have been near or below 0.5 for the past 18 months.
At St. Luke's, the average cost for treating an infection following a total joint procedure is roughly $109,000. Based on that estimate, within the first 18 months Project Zero was in place in the Treasure Valley, the program saved approximately $2,071,000.
While the cost savings is impressive, the savings it represents for patients is even more valuable. Lisa Earnest, an orthopedic surgical technologist at St. Luke's Boise, became a champion for improved safety protocol after her sister, Kristin, experienced a painful SSI that resulted in a partial leg amputation. Starting with the accident that occurred in California in 2004 and continuing today, Kristin has paid a heavy toll physically, emotionally and fiscally.
"When you stop and think how a life could change based on something that could be prevented here, it's a pretty big deal," Lisa says.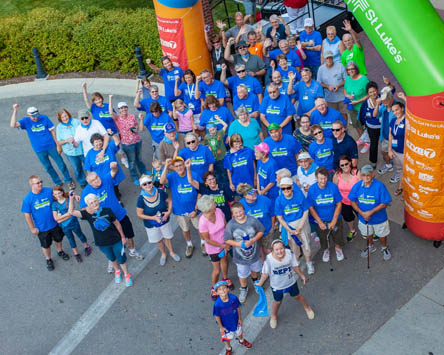 Lisa recalls how a simple accident triggered significant changes in her sister's life: Kristin, a single mother working as a surgical tech, was pumping air into a tire that was too low. The air pump hose slid out from beneath her foot and caused her ankle to roll. She fractured her ankle and required surgery, and within two weeks she had an infection.
The next two years were filled with painful surgeries and treatments. Kristin ultimately decided to opt for amputation. When Lisa was offered a job at St. Luke's, both sisters moved to Boise from California. Lisa says they rely on each other for support, so they were determined to live in the same city.
Increased engagement opportunities for Joint Program participants help reduce SSI risk through education and other group activities. The program includes a pre-operative joint class to prepare participants for surgery. Participants are also invited to celebrate their post-operative success at the Fit for the Road Reunion, a 1.25 mile walk in the neighborhoods surrounding the downtown campus.
"The human impact is huge," explains Dr. Shea. "Those infections have such an impact on a patient's life."
Dr. Shea says that as a surgeon, he finds satisfaction in caring for one patient at a time. Project Zero offers a different level of satisfaction.
"As a surgeon, I prefer to take care of patients one at a time and one problem at a time. It is very satisfying to do that. But Project Zero is satisfying as a surgeon because it is a much broader scale, in terms of how many patients it can affect," he explains.
It has also been satisfying for Dr. Shea and the entire team to help drive cultural changes, he added. Some of those changes include:
Practice and protocol changes, including a new Surgical Scrub Initiative, are widely communicated with OR staff and surgeons.

Practice and protocol changes, including a new Surgical Scrub Initiative, are widely communicated with OR staff and surgeons
Diabetes optimization focuses on helping diabetic patients prepare for surgery by improving A1c levels and other risk factors.
The St. Luke's Perioperative Evaluation Clinic was implemented in 2013 to address medical issues such as high blood pressure, untreated diabetes, or obesity.
Joint Program participants are encouraged to attend a two-hour pre-operative joint replacement class to learn more about care and what to expect before, during and after surgery.
Protocol/practice changes, such as the OR Scrubs Initiative in 2014, are accompanied by robust communication and outreach efforts.
Improved communication between surgeons and the OR staff include streamlined, more efficient processes. Case preference cards, which contain items normally used during surgery, were reviewed and revised to ensure the appropriate items were available during the case, ultimately reducing the number of times OR staff must leave the OR suite to get an item needed for the procedure.
These improvements, along with the reduced infection rates, give the team reasons to celebrate. But they don't signal an end to this important work. The continuing effort to reduce SSIs is one of the five system-wide priorities for 2015.
"We are still actively working on these fundamentals," Mindy says. "When our scores are good it's even more important to be focused on how we can improve. We can't rest."
About Qualis Health
Qualis Health is a national leader in improving care delivery and patient outcomes, working with clients throughout the public and private sector to advance the quality, efficiency and value of healthcare for millions of Americans every day. In Idaho, Qualis Health serves as the Quality Improvement Organization (QIO) for the Centers for Medicare & Medicaid Services (CMS), the Health Information Technology Regional Extension Center (REC) for the Office of the National Coordinator for Health Information Technology (ONCHIT) and provides case management and utilization management services to the Idaho Department of Health and Welfare, Division of Medicaid. For more information, visit www.QualisHealth.org.