---
Amanda Davies made a decision to overcome obesity after tipping the scales at 270 pounds. Today she's down 75 pounds and has energy like never before. She is sharing her experiences in the hope that she'll inspire others. This is the fourth of a six-part blog series that tells Davies' story.
---
Perhaps the biggest surprise of Amanda Davies' health transformation has been how much she enjoys creating healthy foods. "I've gotten really creative with recipes," she said, "reinventing them and modifying them to fit my family's needs. And my kids love the food!"
Davies shares recipes, tips, and stories on her motivational blog and Facebook page, "Fit and Fabulousness." Charmin Aschenbrener, a registered dietitian with St. Luke's Heart Health and Rehabilitation Center, weighs in on four of Davies' recipes. Her recommendations are included with the recipes below, and are in the list of ingredients in parenthesis.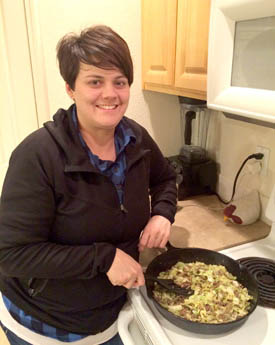 Paleo Shepherd Pie
Davies: Paleo meals can either be really bomb or really, really bad. This meal was AMAZING! All my family enjoyed it, and my husband and I ate the rest that was left. The other lovely thing is that it's full of veggies and grain-free, and could be dairy-free.
Aschenbrener: I'd make a few changes to this one, including using lean ground beef. The topping calls for 3 tablespoons of butter or coconut oil. I would use olive oil instead to limit saturated fat. I would also use 1 tablespoon of olive oil in the main recipe. Butter and coconut oil are high in saturated fat. A diet rich in saturated fat increases your risk for cardiovascular disease. Limited amounts of butter and coconut oil can be consumed in a healthy diet but olive oil is a better choice due to its heart healthy monounsaturated fat.
Filling Ingredients:
1 pound ground beef (use lean)
1 onion, diced
4 celery stalks, diced
3 carrots, diced
1 Tbsp. olive or coconut oil (use olive not coconut oil)
2 Tbsp. tomato paste
1 cup low-sodium chicken broth
1 tsp. Italian seasoning blend
Garlic powder, salt, and pepper to taste
Topping Ingredients:
1 head of cauliflower, separated into florets and washed
3 Tbsp. butter or coconut oil (use 1 Tbsp. melted butter only)
Salt and pepper to taste
Put cauliflower florets in a pan of water, bring to a boil, and cook until soft. Transfer to a food processor. Add butter or coconut oil and seasonings. Blend until smooth. Set aside.
Sautee all veggies in a skillet with olive or coconut oil until soft and onion is translucent. Add in ground beef and seasonings. Cook until meat is cooked through. Add in tomato paste and chicken broth. Simmer until reduced and thickened slightly.
Transfer filling to an 8×8 greased pan, top with cauliflower mash, and bake at 400 degrees for 20-25 minutes until bubbly. You can turn on the broiler for 5 minutes or so to crisp up the top.
Lentil Vegetable Soup
Davies: Lentils don't get the credit they deserve. They're super inexpensive, packed with protein and fiber, and so versatile. Plus, you can add them to soups and chili to make them even more protein-packed. You can add any veggies that you love to this soup, like chopped kale, or even some sausage or ground beef. The possibilities are endless.
Aschenbrener: This is great. Lentils are one of my favorite foods. Using low sodium broth is a great way to keep the sodium down.
1 pound dried lentils
8 cups low sodium chicken or vegetable broth
1 quart tomato puree
6 carrots, sliced
1 head of celery, sliced
1 onion, chopped
1 tsp. dried oregano
1 tsp. dried basil
1 tsp. garlic powder
Salt and pepper to taste
Put all ingredients in large stock pot and bring to a boil, simmer for 30 minutes or until lentils are soft. I transferred mine to a crock pot to heat for the afternoon. Just check the lentils to make sure they're tender.
Veggie Mac-n-Cheese
Davies: I'm a mom of 3 children—8, 6, and 4. They love mac-n-cheese. From a box. Cringe. So, I created a recipe of my own. And….the children loved it. I fooled them all!
Aschenbrener: This is great as it is. Anytime you can get your kids to love eating vegetables, that's a win. I would recommend using 100% whole wheat pasta for added fiber.
1 sweet potato, peeled and chopped
1 medium zucchini, peeled and chopped
½ onion, chopped
2 medium carrots, peeled and chopped
1 clove garlic
¾ cup Parmesan cheese
2 Tbsp. butter
Salt and pepper to taste
Cooked pasta (use 100% whole wheat)
Add sweet potato to a pot of boiling water. Boil for 5 minutes. Add in remaining veggies. Boil for 8-10 minutes or until sweet potato is tender. With a slotted spoon, transfer all the veggies to a blender (save cooking water). Add in the butter, parmesan cheese, and garlic clove along with salt and pepper to your liking. Add in 1 to 1 ½ cups cooking water. Blend until smooth. Make sure you open the lid occasionally to let the steam out. Serve over hot pasta.
Chia Seed Pudding
Davies: Chia seed pudding has changed my life. I seriously can't stop thinking about it. It's got killer texture, it's healthy and so easy to make! I always have some in the fridge. This recipe makes 4 servings.
Aschenbrener: This looks like a nice treat. There are 24 grams of sugar in the recipe (assuming you use unsweetened almond milk), which is about 6 grams per serving. The World Health Organization recommends we keep added sugar to below 24 grams a day for women and 36 for men. Although this does make a nice occasional treat, one serving of this recipe would count for about one-quarter of your sugar budget for the entire day. That's okay if you're limiting other foods in your diet with added sugar. Just be careful—sugars can really add up if you're not paying attention. And don't be fooled…honey responds the same way in our bodies as white sugar.
In a quart-size canning jar combine the following:
1 ¾ cup almond milk (use unsweetened)
¼ cup chia seeds
2 Tbsp. cocoa powder
2 Tbsp. honey
Dash of salt
Now…..shake it up. And I mean shake it like mad. Get crazy. Refrigerate for 4-6 hours or overnight. Shake randomly during the waiting time. Show it a little love!
I top mine with blueberries and sliced almonds. I've also added peanut butter to the mix and it was divine!