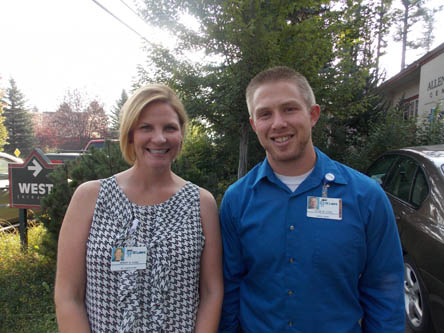 A new component of care is being offered through a team-based model at St. Luke's clinics in McCall.
As of Sept. 1, behavioral health services are available for adults and children at St. Luke's Clinic – Payette Lakes Family Medicine and St. Luke's Clinic – Internal Medicine, located on the St. Luke's McCall campus.
"I am so pleased that this model has finally come to fruition. Having behavioral health professionals within our clinic will drastically improve our patients' access and our ability to provide comprehensive care," said Dr. Dave Hall, a family medicine physician at Payette Lakes.
Increasing access to full-spectrum mental and behavioral health services is a significant need identified by local physicians, community members, and the St. Luke's Community Health Needs Assessment.
St. Luke's has rolled out a variety of initiatives and programs to enhance services and access and is beginning to work more closely with community partners to address demands for these services.
"All of us will be utilizing this resource almost immediately. Behavioral and mental health care has always been an issue in rural Idaho and this is definitely a step in the right direction."
Licensed clinical social workers Ashley Robinson and Jake Wilson will share the new full-time position in the clinics, in addition to providing traditional long-term therapeutic and counseling services at St. Luke's McCall's Behavioral Health clinic, located on Deinhard Street.
If potential behavioral health issues arise during a patient's visit, Robinson or Wilson can be introduced to the patient and conduct an evaluation and determine if further diagnosis or treatment is needed. There will not be any additional charges for this initial service.
"The goal is to detect and address a broad spectrum of behavioral health issues with the aim of early identification, quick resolution, long-term prevention, and wellness for as many patients as possible," said Wilson. "For example, if an adolescent suffers a concussion while playing soccer, they may encounter behavioral health issues. Now we'll be able to identify and provide treatment early, avoiding long-term problems."
The same goes for patients suffering from chronic conditions such as diabetes or heart disease. Emotional and behavioral issues can negatively impact a patient's ability to manage their disease. This care model, of embedding therapists with other healthcare practitioners for easy access, has been shown to improve chronic disease outcomes and support patients to engage in their own healthcare.
This new model is supported by a three-year, $600,000 Rural Outpatient Care Coordination Collaborative grant received by the St. Luke's McCall Foundation in May from the Federal Health Resources and Services Administration (HRSA).
"The support from the foundation in securing the grant allows us to develop an evidence-based care model and test it to make sure it works for our community," said Don McKenzie, clinic practice manager. "It also allows us the time to create a sustainable model that will continue after the funding ends."
As a not-for-profit organization, St. Luke's McCall can increase patients' access to mental and behavioral health services by accepting a wider variety of insurance plans, including Medicaid or Medicare coverage.