---
Amanda Davies made a decision to overcome obesity after tipping the scales at 270 pounds. Today she's down 75 pounds and has energy like never before. She's sharing her story in the hope that she'll inspire others. Follow Davies' journey through a series of blog posts over the next few months.
---
Like anyone who's faced a serious health challenge, Amanda Davies found that changing a lifetime of habits isn't easy. But she drew inspiration each time she reached a goal, and experienced a real sense of freedom by letting go of a heavy burden.
Davies faced the challenge of obesity by committing every day to exercise, a nutritious diet, and a healthy mind-set. "I had to change everything about myself," she said. "I took it meal by meal, workout by workout."
At a weight of 270 pounds, Davies didn't feel good physically or emotionally. But it took her "Know Your Numbers" health insurance screening to inspire her to change her entire lifestyle. As the spouse of a St. Luke's employee, she can lower her insurance premiums by achieving fitness goals regarding blood pressure, blood sugar, tobacco use, and BMI (body mass index).
"I was designated 'morbidly obese' at my 'Know Your Numbers' screening last February," she said. "I hated that. I wanted my next measurement to show changes. Little did I know I would be down 75 pounds!"
Her screening also showed issues with insulin resistance, cholesterol, and blood pressure. She's reversed those numbers as well, and dramatically lowered her risk for heart attack, stroke, diabetes, dementia, cancer, and other serious diseases.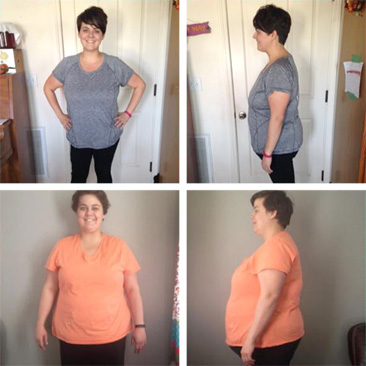 Davies began her transformation in February 2015. Just nine months later, her numbers paint an incredible picture:
75 pounds lost
Triglycerides down from 221 to 55
Total cholesterol down from 164 to 123
15 inches off her waist, 10 off her hips, and seven off her chest
Clothing size down from 24 to 14
"Amanda has been successful because her goals are reasonable," said Angela Latta, Davies' OB-GYN nurse practitioner. "She focuses on consistency, healthy foods, portion control, regular exercise, and positive self-talk to achieve long-term changes in her habits and lifestyle. She didn't start out with grand, overwhelming plans—which are usually destined to fail."
Davies' St. Luke's family doctor had long encouraged her lifestyle changes, as had the team at her OB-GYN office. But even with their support, she knew the strength to change had to come from within.
"Amanda's success began because in her mind she believed she could transform herself and feel better again," Latta said. "She never quit believing."
"I knew no one could fix this but me," Davies said. "I had to save my own life."
"Amanda has a beautiful story of success, teaching us all the power of self-belief and just how far it can take us," Latta said. "She's an inspiration to us all, but especially those who harbor self-doubt. That's not something you can get from a healthcare provider."
Along her journey, Davies has been teaching positive habits to her family and getting creative with making recipes healthier. She also shares recipes, tips, and stories on her motivational Facebook page, "Fit and Fabulousness," as well as her blog, to engage with readers in ways that are helpful, healing, and fun.
"Changing my habits changed my life," Davies said. "It's been a gift, and I want to encourage others. We all deserve to be healthy."