Post Graduate Year One (PGY1) - Boise, Meridian and Nampa Outpatient Pharmacies
This 12-month program is designed to help the resident develop expertise and competency in providing pharmaceutical care to a variety of patients in the outpatient setting. Because St. Luke's is a complex health system, this experience offers exposure to a variety of rotations, such as transitions of care, ambulatory care and hospice.

Residents train under the guidance of skilled preceptors in various specialties to develop sound clinical and leadership skills. Our goal is to produce innovative pharmacy practice leaders who are prepared to tackle the challenges of a rapidly evolving health care system.

The residency experience encompasses required (foundational) and elective longitudinal rotation experiences. Flexibility is built into our program, which allows each resident to tailor a program to fit their individual needs.


Required Longitudinal Rotation Experiences
Community pharmacy practice
Discharge medication management/Transitions of care
Ambulatory care
Medication safety
Pharmacy administration and leadership
Precepting
Boise learning and teaching curriculum program
Elective Longitudinal Block Experiences
Hospice
Infectious disease
Outpatient infusion therapy
Pediatrics
Specialty pharmacy
Pharmacy benefits management
Population health


Conferences
ISHP Fall Meeting

ASHP Midyear Clinical Meeting

Mountain States Conference


Program Details
Start date: late June or early July
Estimated stipend: $56,000


Staffing Requirements
Staffing requirements vary based on home site, staffing needs, and residency year progression. Residents will staff once weekly, alternating weekdays and weekend shifts as part of the longitudinal staffing rotation. Residents may volunteer to pick up extra shifts at pharmacist wages on weekends and holidays but this is contingent on RPD approval.


Projects & Research
Each resident is expected to complete at least two large projects during their PGY1 year. The first is a quality-improvement project that will be presented as a poster at the ASHP Midyear Clinical Meeting. The second is the major project, which will be presented at the Mountain States Pharmacy Conference in Utah.


Teaching Certificate & Residency Forum
St. Luke's has partnered with the other pharmacy residency programs across the region to bring residents together to collaborate as they work to complete the requirements to obtain a teaching certificate from Idaho State University (ISU) College of Pharmacy (COP). In completing these requirements, St. Luke's residents will give a clinical lecture to the pharmacy students at ISU, be featured presenters at the ISHP conferences and precept an APPE.
Application Instructions and Process
Submit an application via PhORCAS by January 2, application to include:

Letter of intent
Three letters of reference
Current CV
Pharmacy transcripts

Applicants must also complete a St. Luke's online application by January 2 - search for Pharmacy Resident (PGY1) - Boise
On-site interview in February
Contact Information
Darcy Aslett, Pharm.D.
Residency Program Director
Phone: (208) 381-7561
Email: [email protected]
Allie Schultz, Pharm.D.
Nampa Site Coordinator
Phone: (208) 205-7637
Email: [email protected]
Shannon O'Rourke, Pharm.D.
Boise Site Coordinator
Phone: (208) 381-7282
Email: [email protected]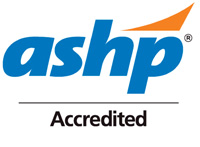 Accreditation
The PGY1 Community-Based Pharmacy Residency conducted by St. Luke's Health System, Boise, ID is accredited by ASHP, in partnership with APhA.