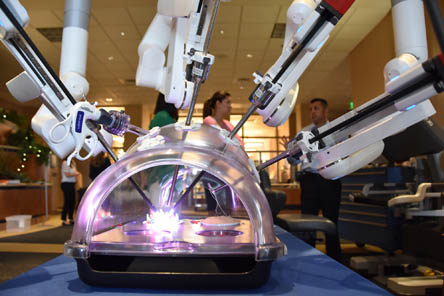 More than ever, doctors are using robotic systems to perform surgery. One of the latest, the da Vinci® Xi, allows your surgeon to operate with extreme precision and control, using only a few small incisions. The results are less pain, less blood loss, fewer complications, less risk of infection, shorter hospital stays, and faster recovery.
St. Luke's surgeons are using da Vinci to help adults and children with a variety of robotic-assisted surgical procedures. These include:
Prostatectomy (removal of the prostate)
Gynecologic surgery such as hysterectomy (removal of the uterus) and ovary removal
Adult urologic surgery
Pediatric urologic surgery
General laparoscopic surgery such as hernia repair or gallbladder removal
Nephrectomy (removal of part or all of the kidney)
Thoracic surgery (chest/lung)
Surgery for cancers of the bladder, colon, rectum, and pancreas
The da Vinci Surgical System utilizes advanced, robotic, computer, and optical technologies to assist your surgeon with your operation. Its movements are controlled by your surgeon. The system has a 3-D high definition (3D-HD) vision system, special instruments, and computer software that allow your surgeon to operate with enhanced vision, precision, and dexterity. The 3D-HD image is highly magnified, so your surgeon has a close-up view of the area he or she is operating on. The da Vinci instruments have mechanical wrists that bend and rotate to mimic the movements of the human wrist—allowing your surgeon to make small, precise movements inside your body.
Please discuss with your doctor whether surgery using the da Vinci Surgical System is right for you.