This is my first November in stunning Idaho. Being from Texas, it sometimes felt like summer transitioned right into winter, and football was the only indication that it was fall! To my delight, autumn in the Gem state brought magnificent color—signaling that we were entering a new season—the Thanksgiving season.
I have reflected on the first Thanksgiving more than usual this year. Perhaps it's related to our cross-country move or shared experiences in our local communities over these last months, or both. I am mindful of the tenacity of the pilgrims who boarded the Mayflower and endured storms, leaks in the ship, illness and loss. Nonetheless, they held on to their faith, family, friends and dreams. Equally compelling are the efforts of the native Wampanoag people, who harvested deer to feed their new neighbors and taught the colonists how to farm this unfamiliar land. The Wampanoag brought light. Fittingly, Wampanoag even means "People of the First Light."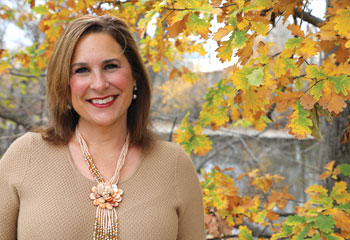 Making a cross-country move during a pandemic wasn't as treacherous as a voyage on the Mayflower, but it offered challenges. Specifically, the moving truck arrived about two months after we did. As our neighbors learned about the delay, we were offered pots and pans, furniture and other items to tide us over in our near-empty house. They also invited us into their homes to share a meal and to learn about the Idaho events and places they cherish most. Joining St. Luke's, I experienced a warm welcome from my first day. Many of my colleagues left Idaho-themed surprises on my desk and when I looked out my window, I could see the beautiful foothills. Those highlights offered hope and promise for a new chapter for me and my family. It made Idaho home very quickly.
As I began to travel to St. Luke's care sites across the state, I was impressed by the hospitality and uniqueness in each locale. Much of what drew me to service at St. Luke's was evident in the relationships I observed. Our team members striving to improve the health of those they serve. Sadly, the COVID-19 surge interrupted our routines, and yet countless employees volunteered to work in unfamiliar areas and sign up for additional shifts—all while carrying a heavy load at home. The sacrifices made were significant, but despite best efforts, we lost many precious souls. Like the pilgrims, our associates and providers became discouraged and weary, but YOU were there! Our communities organized so many ways to acknowledge the work of the teams: letters of appreciation, delicious food, celebrations of victories, thoughts and prayers. You brought encouragement when we needed it most.
It now feels like we are seeing the early signs of a new season in our work and in the opportunity to focus more deeply on keeping our communities well. After what we all experienced, a welcome change!
I am so grateful! Grateful that I live in an area where neighbors care about one another. Grateful that I am a part of an organization that values community and promotes health. Grateful that I have family and friends to gather with during the holiday season.
When I sit down at the Thanksgiving table later this month, I anticipate that I will remember the meal shared between the pilgrims and the Wampanoag. People with different cultures, faith expressions, skin color, and norms who came together to celebrate the work of their harvest and to offer thanks for their blessings. Based on their example, I plan to do the same—to find spaces to share light and people with whom to spark new relationships, right here in Idaho.