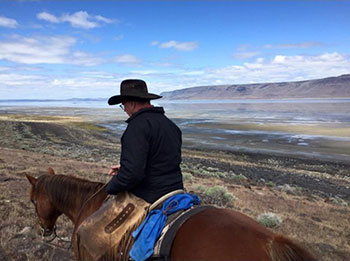 Dennis battled kidney stones off and on for more than seven years. The Oregon rancher received care from his local primary care doctor, and even traveled to Bend for surgery. But within five months the stones were back—and worse than ever. They were painful, large, and as it turned out, trapped in his ureter.
His daughter, who works for St. Luke's, suggested Dennis come to Boise for care. The night before his appointment he ended up in the St. Luke's Boise emergency department and was admitted to the hospital. Two procedures were unsuccessful before he finally connected with Dr. Brian Auge, a St. Luke's urologist fellowship-trained in kidney stone surgery.
Dennis's case was very complex, Dr. Auge says, because the stones were blocking both ends of the ureter. "I approached his stones from the back through the kidney to the ureter." Dr. Auge removed both stones in the ureter plus one in Dennis's kidney, and inserted a stent in the ureter so it could heal.
After surgery, Dr. Auge had Dennis undergo a metabolic workup to see why he's such a "stone maker." He encouraged Dennis to follow a diet that will help his body stop making kidney stones (see tips below).
Dennis has been following up with Dr. Auge and hasn't had any stones since. He's drinking more water, avoiding salt and sticking to his new diet, which includes severely limiting beef. "As a lifelong cattle rancher," he laughs, "that's a tough blow."