An increased need for care among kids with respiratory viruses continues within St. Luke's Health System and throughout Idaho. Among its response to the community's health care needs during the early and sustained virus season, St. Luke's has created temporary no-cost outpatient clinics for kids that offer suctioning, allowing pediatric patients to breathe easier, and in many cases, stay out of the hospital.
The Respiratory Outpatient Clinic (ROC), sometimes referred to as a suction clinic, offers deep suctioning of nasal mucus and phlegm for young children in need, often due to Respiratory Syncytial Virus (RSV) or bronchiolitis (inflammation of the small airways of the lungs).
"Through these new clinics, we have seen 235 visits among more than 100 kids in our communities in a matter of weeks. Just one year ago, before these clinics existed, these kids would have gone to the emergency department or been admitted to the hospital for care. Through the ROC, we have kept more than 100 kids out of the hospital so far," said Dr. Kenny Bramwell, recent St. Luke's Children's system medical director, and emergency room physician.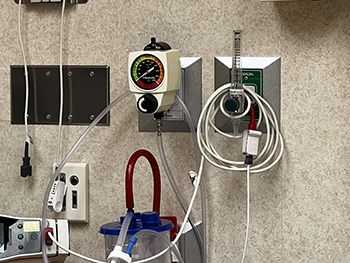 These respiratory viruses can make eating and breathing very challenging, especially for young babies who are unable to clear their nose and throat by themselves. Young children with inflamed respiratory passages can end up in the emergency department for the treatment of symptoms, which can include dehydration. Sometimes they are in need of hospitalization for continued care, but a number of young children can be cared for at home with the aid of daily visits to a St. Luke's Respiratory Outpatient Clinic.
Kids are referred to the ROC by clinicians within St. Luke's. The clinics are staffed by on-site respiratory therapists. Through the ROCs, kids can remain at home in their families' care and are brought into the clinic, sometimes multiple times a day, for deep suctioning to help with their symptoms and recovery.
"Given that we are functioning in contingency standards of care where we're at times experiencing bed capacity issues, longer wait times in our emergency departments and patients being cared for in other parts of our hospital than they might typically be, we count these clinics a great success for keeping a number of children out of the hospital and providing them with some relief in their recovery from these viruses," added Dr. Bramwell.
The first ROC was established by St. Luke's in Boise, co-located inside the Boise Medical Center. In recent weeks, St. Luke's has also established these temporary clinics in Meridian, Magic Valley, Nampa, Fruitland, Elmore and Wood River.
During a visit to the ROC, respiratory therapists assess a child's heart rate and oxygen levels, and they will talk with families about the child's eating habits and other related topics, in addition to performing a suctioning treatment. The visits and deep suctioning treatments are offered by St. Luke's at no cost to families at this time; kids three and younger may be referred. The clinics do not offer visits by physicians or nurses. However, if a child who visits the ROC is determined to need a different approach to care, they are moved to the emergency department for additional care.