As Idaho's COVID-19 outbreak continues, local health care organizations are urging people to get the flu vaccine this fall. Without widespread immunizations, health care leaders fear people will not only get sick, but hospitals could be overwhelmed by patients both with the flu and coronavirus.
Physician leaders from Primary Health Medical Group, Saint Alphonsus Health System, Saltzer Health, St. Luke's Health System and West Valley Medical Center teamed up Tuesday to deliver the important message that people need to start thinking about the flu vaccine now and make an appointment to get one. The flu shot is especially critical for children, seniors and people with certain health conditions.
It can take up to two weeks to take full effect.
"With a pandemic, the flu vaccine becomes even more critical," said Dr. Richard Augustus, Chief Medical Officer for West Valley Medical Center. "By preventing influenza in the first place, or reducing the severity of the illness with vaccines, it could ultimately help to reduce the strain on our health care resources and ensure we have a place in the hospital for people who need it most."
Hundreds of thousands of people are hospitalized in the United States annually for flu. During the last influenza season, CDC estimates 490,000 people were in the hospital with flu, with 810,000 hospitalized the prior year. Health leaders are concerned by the possibility of high flu-related hospitalization numbers once again, on top of the COVID-19 patients they are already anticipating. While uncommon, patients can be infected with both viruses. In these cases, physicians expect disease to be more severe.
"With the reopening of schools and businesses we expect to see widespread influenza and COVID-19 simultaneously this fall, winter and spring," explained Dr. Steven Nemerson, Chief Clinical Officer at Saint Alphonsus Health System. "Both diseases can lead to severe respiratory illness and worse, but the combination, whether together or one after the other, can be particularly deadly. Getting vaccinated against the flu can significantly lessen the severity of that disease and the risk if COVID-19 illness is superimposed on flu."
Last flu season, the CDC reported 45% of adults and 63% of children receiving their flu vaccine. Vaccine manufacturers anticipate those numbers will be higher this year with public concerns about COVID-19. Because the majority of flu vaccines for children are delivered in a doctor's office setting, along with about one-third of flu shots for adults, local health organizations have had to rethink their flu vaccine delivery strategy to prepare for the increase in clinic visits.
To keep patients and providers safe from COVID-19, most will require appointments for flu vaccinations, while some will accommodate walk-ins. Those appointments can be made using each organization's online health portal or by calling. Most commercial insurance plans cover the cost of a flu shot.
"Our patients need to know they don't have to be nervous about going to see their doctor for these routine visits and vaccinations. Each health care organization in our area is taking extra precautions inside clinics to make sure everything is clean and everyone stays as safe as possible," said Dr. John Kaiser, Saltzer Health VP & Chief Medical Officer.
"We know there may be people who are concerned about coming into a doctor's office to get the flu shot or may think they don't need it because they're wearing a mask and physically distancing themselves. While those precautions are good, we know the flu still finds ways to get us sick," said Dr. Laura McGeorge, St. Luke's Health System Medical Director, Primary and Specialty Care.
Like COVID-19, influenza is spread mainly by droplets made when someone who is contagious talks, coughs or sneezes. The droplets can be inhaled by others nearby and land on surfaces. A person may touch that surface, then touch their eyes, nose or mouth.
How to be a flu fighter and get the vaccine
Primary Health Medical Group
Primary Health offers walk-in flu shots at 16 locations, open daily. High dose is available for patients 65 and older, and nasal mist is available for kids ages 2 – 18. Find a location near you at www.PrimaryHealth.com/FluShot
Saint Alphonsus Health System
Saint Alphonsus has multiple options for flu vaccinations this year, including: Drive-up flu clinics available by appointment at select locations, starting Sept. 29, through Oct. 30. Visit www.saintalphonsus.org to schedule an appointment online. Call the Saint Alphonsus Medical Group clinic near you for specific appointment options. Flu shots are also available during any primary care provider visit. Go to www.saintalphonsus.org for updated information.
Saltzer Health
Saltzer Health offers walk-in flu vaccinations at all four urgent care clinics in Meridian, Nampa and Caldwell.
Patients can also get flu shots by appointment from their primary care provider, pediatrician and OB/GYN. For locations, see saltzerhealth.com or call 208-463-3000.
St. Luke's Health System
To maintain physical distancing and discourage congregations of people, St. Luke's encourages patients to schedule an appointment for their flu shot at their primary care clinic via myChart. Night and weekend appointments will be available, but walk-in appointments will not take place this year to maintain a safe care environment. Flu shots are also available during routine provider visits. If you aren't registered for myChart, you can sign up for by clicking here. You can also make an appointment by calling your St. Luke's primary care provider.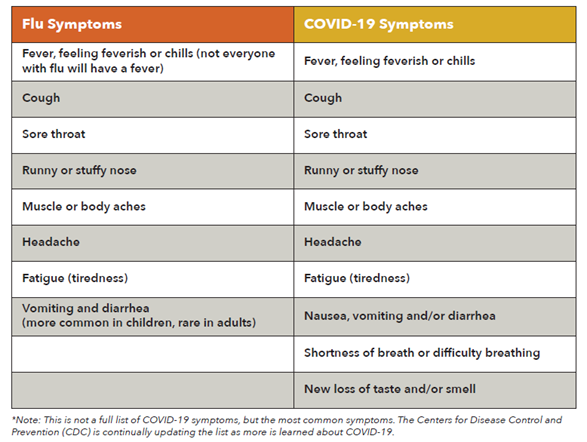 Flu versus COVID-19
Influenza and COVID-19 share similar symptoms. (See chart) A key difference is that many people with COVID-19 can have mild symptoms or no symptoms at all. Others with COVID-19 may also have shortness of breath or difficulty breathing, or new loss of taste or smell. For those patients with symptoms, knowing whether they have been vaccinated for the flu will help providers more quickly determine the best treatments.
To reduce the risk of getting sick, be sure to get a flu vaccine early while also maintaining normal vaccination schedules for all vaccines, continue to practice good hand hygiene and wash with soap and water for at least 20 seconds, physically distance at least six feet from others and wear a face covering. If you are sick, stay home. Private parties and large gatherings are well-documented sources of outbreaks, so avoid them.