Get ready to take on St. Luke's Fit One 2020. This year it's your race, your way. Idaho's most popular fitness event is going virtual with its 5K, 10K and Half Marathon and registration kicks-off July 8 and 9 with special prices and prizes.
St. Luke's FitOne 5K, 10K and Half Marathon was originally scheduled to take place in Boise on Saturday, Sept. 26. The largest one-day running event in Idaho draws about 12,000 participants every year and helps raise money for St. Luke's Children's, Idaho's only Children's hospital.
In May, race organizers put the health and safety of the community first during the COVID-19 pandemic and announced the virtual shift. Relying on guidance from St. Luke's physicians and state and local health officials, the decision was made to modify the event from a huge in-person family-friendly fitness celebration to a virtual one spread out across the state over nine days.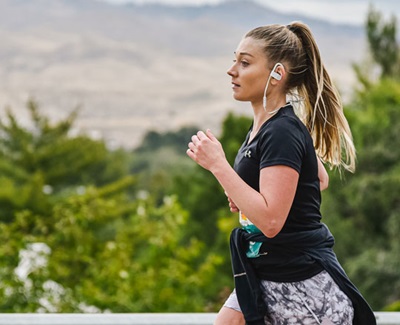 What is a Virtual Race?
Participants still have to move, but are able to set their own course to go the distance while social distancing.
St. Luke's FitOne will supply the race shirts, bibs, medals and virtual cheers and high-fives. Just make sure to sign up before Sept. 9.
Instead of waking up early to join a large group in downtown Boise to run a pre-determined course, participants track their own course and time in the digital realm, run or walk on their own terms and in their favorite location. The only requirement is the race be done between Sept. 18-26 and use the RaceJoy app to track the time and distance.
"We are excited to create an event this year to support our participants, sponsors and community that reflects our current circumstances. While the event won't be quite the same this year, the virtual version has its own great benefits like the flexibility to run where and when you want, no parking problems, and no nerves at the crowded starting line," said Eric Stride, St. Luke's FitOne executive director.
"Our goal is to inspire people of all ages to get fit for life, and have fun doing it, and that hasn't changed."
How to Choose a Course
Participants select a pre-designed course when they register or choose the "Run Anywhere" option to set their own course straight out their front door, along a beautiful wooded path or your typical neighborhood route. It is up to them.
5K: Choose a pre-designed 5K course in Boise, Canyon County, Twin Falls, McCall or Wood River, or choose the "Run Anywhere" option.
10K and Half Marathon: Choose from a pre-designed 10K or Half Marathon course in Boise or choose the "Run Anywhere" option.
Using the RaceJoy app, participants can follow a turn-by-turn route and track their time. Those who complete their race between Sept. 18 to 26 can also see how they stack up against all other participants.
Register Early
Sign up for just $20 during registration kickoff and be entered to win a $1,000 gift card, along with $50 gift cards from the Downtown Business Association and Albertsons. The contest begins at midnight on July 8 and ends at 11:59 p.m. on July 9. (St. Luke's employees are not eligible to win the gift card or any FitOne prize drawings.) For every registration on July 8 and 9, Axiom Fitness will donate $1 to St. Luke's Children's Hospital.
All registrations after July 9 are $25. As always, kids ages 12 and under are free with a paid adult. Prices increase again on September 1 to $30. Registration will be available online at FitOneBoise.org. Participants have until Sept. 18 to sign up to run the race.