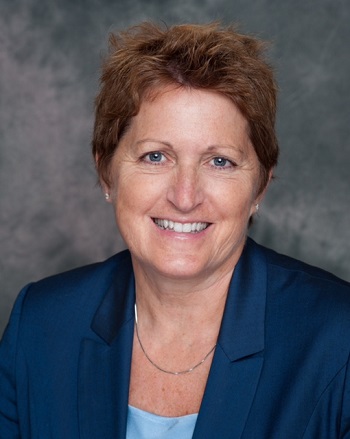 Pamela Lindemoen, an executive with deep experience at hospitals and health systems small and large and a passion for quality local health care, has accepted the position of vice president of St. Luke's Acute Care Division.
She will report to St. Luke's Senior Vice President and Chief Operating Officer Chris Roth and will succeed Kathy Moore, who is retiring after seven years of executive leadership with St. Luke's, in the position effective Jan. 3, assuming oversight responsibilities for all St. Luke's hospitals.
Pamela received the universal endorsement of the physician and program leaders who facilitated the selection process, and brings to the position an enviable wealth of strengths in all aspects of hospital operations and management. She comes to St. Luke's from Dignity Health St. Mary's Medical Center in San Francisco, where she has served as president and chief executive officer.
She previously worked as region vice president of hospital operations for Kaiser Permanente's Northern California Region, leading hospital operations across 22 medical centers employing 25,000 staff members for the organization's largest of seven regions, serving approximately 3.5 million health plan members.
Prior to joining Kaiser Permanente, she held senior healthcare executive positions in Minnesota focused on quality and patient safety, population health and operational and financial turnaround with non-profit, academic and large private health systems.
She earned her master's in management from College of St. Scholastica in Duluth, Minn., and her bachelor's in accounting from Bemidji State University in Bemidji, Minn. She is a member of the California Hospital Association, America Hospital Association and American College of Healthcare Executives.
She plays and watches golf, loves Big 10 college football and likes to travel, cook and garden. In a previous life, she also served as a sports official for high school girls' fast-pitch and boys' baseball and an occasional fast-pitch men's summer league tournament.
She looks forward to exploring Idaho and our rivers and trails with her daughter, son-in-law and 10- and 13-year-old grandchildren, and to getting involved in music, arts and the community that already reminds her of her Minnesota roots.
Welcome, Pamela, to the St. Luke's family!