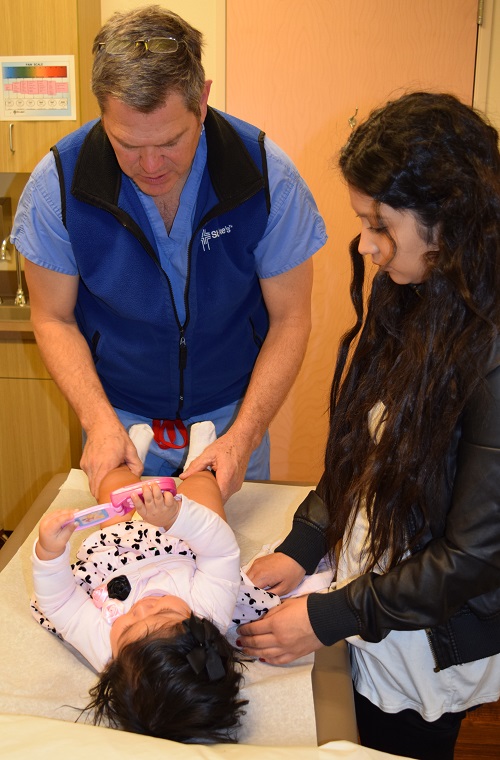 Qualis Health is recognizing St. Luke's for achievements in improving health care quality and outcomes. St. Luke's is receiving two awards from the organization during the Idaho Patient Safety and Quality Improvement Conference in Boise on April 19.
The 2018 Qualis Health Idaho Quality Awards recognized St. Luke's Meridian for a project that leveraged technology to reduce patient falls for patients on the hospital's medical surgical unit, and St. Luke's Health System for a project focusing on integrated care of hip dysplasia.
St. Luke's orthopedic surgeon Dr. Kevin Shea worked with his colleagues to develop an evidence-based care map for pediatric hip conditions. When a dislocated hip is identified before a child is around 6 months old, the condition is relatively easy and inexpensive to treat. When the issue is not identified until later, treatment can be more complex and costly. Dr. Shea worked with Dr. Larry "Buzz" Showalter, another orthopedic surgeon, to create a pathway that would ensure patients would receive the right test at the right time.
St. Luke's Meridian's medical surgical unit was so intent on reducing patient falls that each staff member made a personal commitment to improving the safety of their patients. Staff members now routinely round on patients and complete audients validating that safety checks have been done. In addition, patients are placed on bed or chair alarms if they have fallen within the last six months or if a patient demonstrates any cognitive impairment (such as dementia or memory issues). This increased vigilance has helped the unit decrease patient falls by 153 percent, going from 32 falls in February 2017 to 10 falls in March 2018.
Since 2002,
Qualis Health
, a population health management organization, has presented the annual award to outstanding organizations in Idaho and Washington. Award recipients have demonstrated leadership and innovation in improving health care practices, reflecting the best in health care quality improvement.